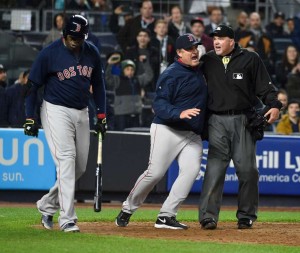 Come on, Red Sox Nation, get your shit together. Yes, Ron Kulpa is a giant ass-hat who thinks he's bigger than the game. And yes, he probably did cost the Sox a win. But that was one game. The team has far bigger issues to deal with than one night with a crappy umpire.
Let's talk about pitching. The two-hundred-million-dollar "ace" is currently sporting a 6.75 ERA – that's thirty-one earned runs in forty-one innings. In his five starts against AL East rivals, he's given up five runs or greater in four of those starts, including back-to-back six-run games against the Yankees. It begs the question: is this guy going to be able to pitch in the big games? His 2-7 record with an ERA over five in the post-season suggests he can't.
After Price's latest debacle we heard rumors that he may have a mechanics issue with his delivery that might fix everything! Great news! Who should we thank, the pitching coach? Pitcher-whisperer John Farrell? No…Dustin Pedroia. What's wrong with this picture?
Lastly, the Red Sox number two pitcher (was that a double entendre?) actually made his 5.71 ERA worse in a win against Oakland.
Praise the bats, Red Sox Nation, praise the bats.