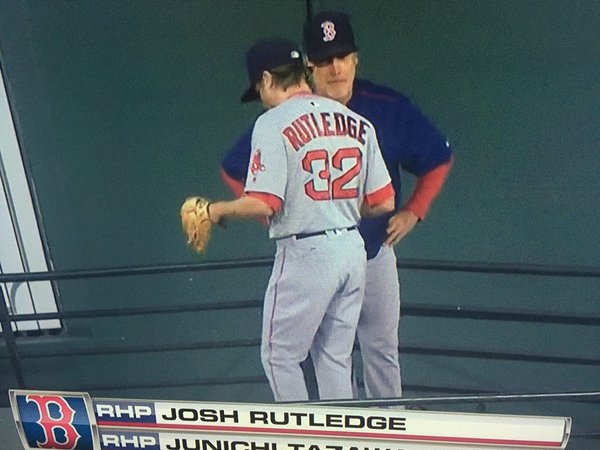 Apparently not content to let Clay Buchholz and Joe Kelly shit on our dreams individually, the stars (and Red Sox management) aligned to have both of them pitch in the same game tonight in Baltimore. Perhaps coincidentally, but most likely not, it was one of the single most infuriating losses of the year. And a stinging reminder that our raking offense will mean nothing down the stretch if our pitching staff can't transform 9 runs into a victory.
This one started out on an awesome note, as Mookie Betts went yard in the game's first at-bat. But Kelly folded like a deck chair in the bottom of the first, giving up two hits and four runs before I'd even downed my first beer. The rest of his stint was equally deflating. When the Sox battled back with three in the top of the second to tie the game, Kelly gave the go ahead run right back in the bottom of the inning. And when the Sox put up a three spot in the top of the third, as you might guess, it didn't take long for Kelly and Tommy Layne (who came in when Kelly was bounced after just 2.1 innings) to give it all back. Seven runs across the first three innings simply wasn't enough, and it just kept spiraling from there.
We were down by one run when Clay entered the game in the fourth, and while he looked oddly impressive through his first two innings, he unraveled in the sixth, giving up three runs and basically putting the game out of reach.
To be honest, Clay caught some bad breaks: a rare Pedroia error on what should have been a double play ball led to a Baltimore run, and a couple egregiously bad calls from the home plate umpire didn't help. But Joe, on the other hand, was just full-on awful, never finding any kind of groove and basically serving up BP for his short tenure. His line was 7 hits, 7 runs and 3 walks over 2 and 1/3 innings, good enough for a post-game demotion to Pawtucket.
Was it the right move? Hell yes. Aside from one or two minor flashes of awesome, Kelly has been an epic bust this season, with a shitsational 2.24 WHIP and 8.46 ERA in just 6 starts. You could put a hat rack on the mound and get numbers like that. Maybe even better numbers.
The night wasn't a total wash; Xander Bogaerts kept his hitting streak alive, reaching 25 straight games. David Ortiz went yard. And Mookie, after having a pitch sail over his head, dropped his second home run of the night, and fifth in two games.
Oh, and another highlight? At one point in the game, Rutledge was warming up in the bullpen.
So that's the deal, folks. A game that could have (and perhaps should have) been our third straight win over the Os morphed into a truly ugly affair. Tomorrow night we get a chance at taking the series with Porcello on the hill. After tonight's loss, I can't settle for a split. We have to take a page from the Buck Showalter playbook and pound their tits.