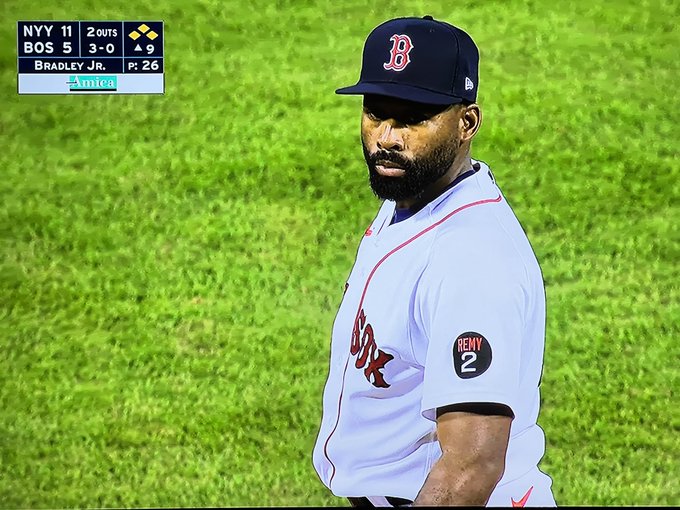 After 2004, I am no longer physically able to count the Red Sox out of anything, be it contention in the East, ripping a 20-game win streak, or showing up unannounced at my nephew Louie's birthday party. But as we draw close to mid-April and the Sox continue to shit the bed against teams in their division (currently 9-20), it becomes increasingly apparent that their doorway into the postseason is coming through the Wild Card. Get into the playoffs by any means necessary and with a healthy Sale, Eovaldi and other pitching types, anything can happen.
It's a route that became a bit more evident last night after watching the Sox dissolve slowly into nothingness against the Yankees for their fourth straight loss. But as painful as that game was, it wasn't without merit. In the ninth, with the Sox down six and all hope apparently jettisoned out the window, Jackie Bradley Jr. made his pitching debut. The result? Let's just say it was our favorite example of a position player pitching against the Yankees since Mike Carp did it almost a decade ago.
Shitshow of a game but I did get to see Jackie Bradley Jr, pitcher, record his first major league strike out. So there's one highlight. pic.twitter.com/kLLgQE4zOP

— Red (@SurvivingGrady) July 9, 2022
Jackie earned himself a strikeout, and came within one strike of handing Aaron Judge a K. And I have to admit that screaming for JBJ to get that Judge K may have mattered to me more than anything in the world for those few magic moments. Even though Judge eventually walked, Jackie on the hill was the lone bright spot of a truly shitty game.