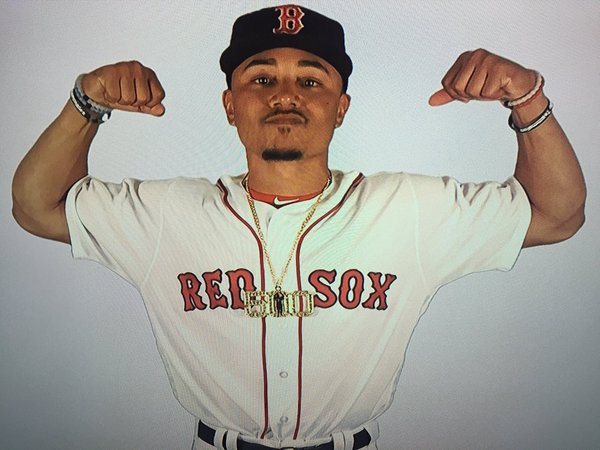 As if we needed more proof that there's a strong 2013 vibe coming off this Red Sox team, tonight's trouncing of the Orioles offered a staggering amount of supporting evidence. The most prominent example came from Mookie Betts, who served up a goddam clinic on demoralizing your closest division rivals. To recap:
First inning, first batter, Mookie goes yard.
Then, the very next inning, does it again:
Finally, because two home runs is just bullshit, Mookie goes for his third:
Notice how each of those home runs went to opposite fields? Later, apparently not content to simply provide all the offense we needed, Mookie turned in this stellar catch:
All of which earned him yet another Red Sox Gatorade bath:
Quote of the night goes to John Farrell:
"Jackie leaves us today for the birth of his child. If he has a boy, I think he ought to name him Mookie."
And while it seemed like Mookie was the only guy making things happen, he wasn't. Xander Bogaerts extended his hitting streak to 24 games — an amazing achievement on any other team, but like the second or third best story on this embarrassment of riches of a Red Sox team. Chris Young made a fine catch of his own, robbing Manny Machado of a two-run homer. And Eduardo Rodriguez held the Orioles to two runs and six hits over six innings.
The Boston Red Sox finish May with an 18-10 record, leading the American League East by 3 games and flaunting the best record in the American League and second best in all of baseball. Bring on June, I say. Bring that motherflipper on.