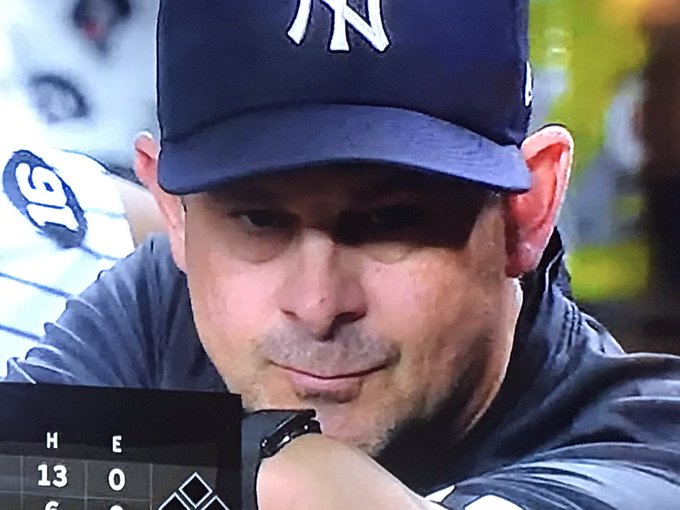 Let's agree on one thing: The Yankees' hiring of Aaron Boone as manager had nothing to do with his credentials or potential and everything to do with his infamous 2003 ALCS-ending home run against the Red Sox. Somehow, watching the Red Sox win three World Series in the twenty-first century was enough to convince New York that the only way to stop the Fenway Juggernaut was to hire the man indelibly linked to one of our greatest postseason meltdowns. Like if the 1988 Yankees had hired Bucky Dent as manager, just to send a "fuck you" to our city and baseball team.
The irony, of course, is that this attempt to knock us down only made us stronger. In Boone's first season with the Yankees, 2018, the Red Sox quickly dispatched them in the ALDS, winning the series 3-1 and outscoring New York 27-14. Since then, the Yankees under Boone have slid closer and closer to irrelevancy; as of today, their fat payroll has them one game above .500. The Red Sox, meanwhile, have the best record in baseball, five players going to the All Star game and an almost-certain lock on the AL East.
Watching Boone in that dugout night after night, his face alternately shifting between the look of a man getting a prostate exam on a ferris wheel and a guy who just lost a fortune betting on his own team, has been every bit as entertaining to me as the Red Sox' unflinching drive to the top of the standings.
And the shitty play? The finger-pointing (highlighted by Brian Cashman's recent "we suck" assessment)? The lingering fears (among New Yorkers) that this year's team will become another high-priced trainwreck? That's just delicious icing on the cake.
It took eighteen years, but the inevitable undoing of Aaron Boone, his epic failure and dissection on a global stage, is finally upon us.
So far, it's been worth the wait.