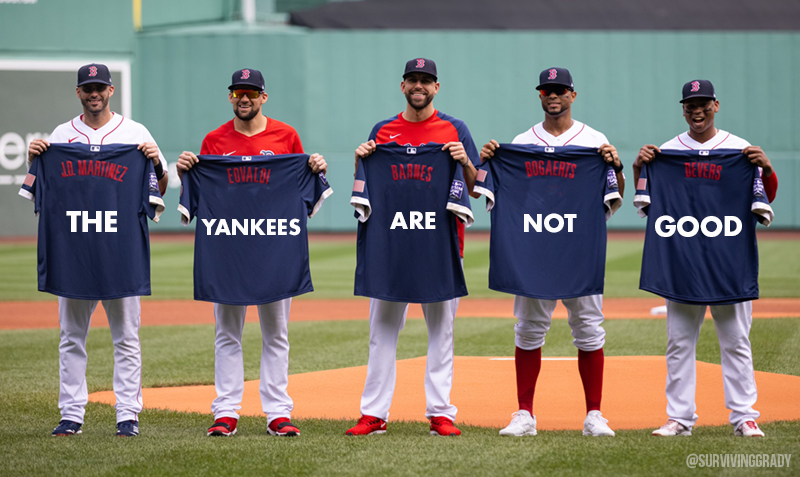 As a Sox fan at the turn of the century, I'd learned to live in the shadows of the New York Yankees, who won the AL East 8 times between 1993 and 2003 and bounced us out of the playoffs twice in that stretch. The last time they dashed our postseason dreams, in game 7 of the 2003 ALCS, was the one that broke me. That loss launched a Hemingway-esque spiral of drink, self-punishment, and at least one attempt to punch a truck. It also inspired me to start a blog as a form of therapy, which is the worst fucking thing you can do.
But I digress.
The fact is I grew up thinking we'd always play second fiddle to the Yankees. Then 2004 happened, and the tables turned.
Since 2004, the Yankees have lost six AL Division Series and four AL Championship Series and missed the playoffs four times. Sure, they won it all in 2009. But over that same time period the Red Sox have won four World Series titles, stepping on the Yankees in the 2018 ALDS en route to one of them.
So the Yankees' dynasty has ended. And their 2021 season pretty much ended last night. That's when the Yankees, riding the high of having won their last two games against the Red Sox, scored the go-ahead run in the top of the tenth to break a 3-3 tie. A New York win would have been a ball-buster. And, although the gulf between these teams is wide, it would have set off at least slight concerns that the Yanks could be a summer pain in the ass.
Then this happened:
Brooks Kriske's historical night!

His four wild pitches in one inning ties an MLB record set five times previously. The last time was 2008. It's the first time in MLB history a pitcher has thrown four or more wild pitches in the ninth inning or later pic.twitter.com/0VcNqzITkN

— Talkin' Yanks (@TalkinYanks) July 23, 2021
Yup, four wild pitches from Yankees reliever Brooks Kriske, who shit the bed madly, gave us the game, and was promptly sent down to the minors. All in a few minutes' work.
It was a sad reminder (for New York fans) that the Red Sox are the class of the AL East this season, and yet another example of Aaron Boone being the gift that keeps on giving.