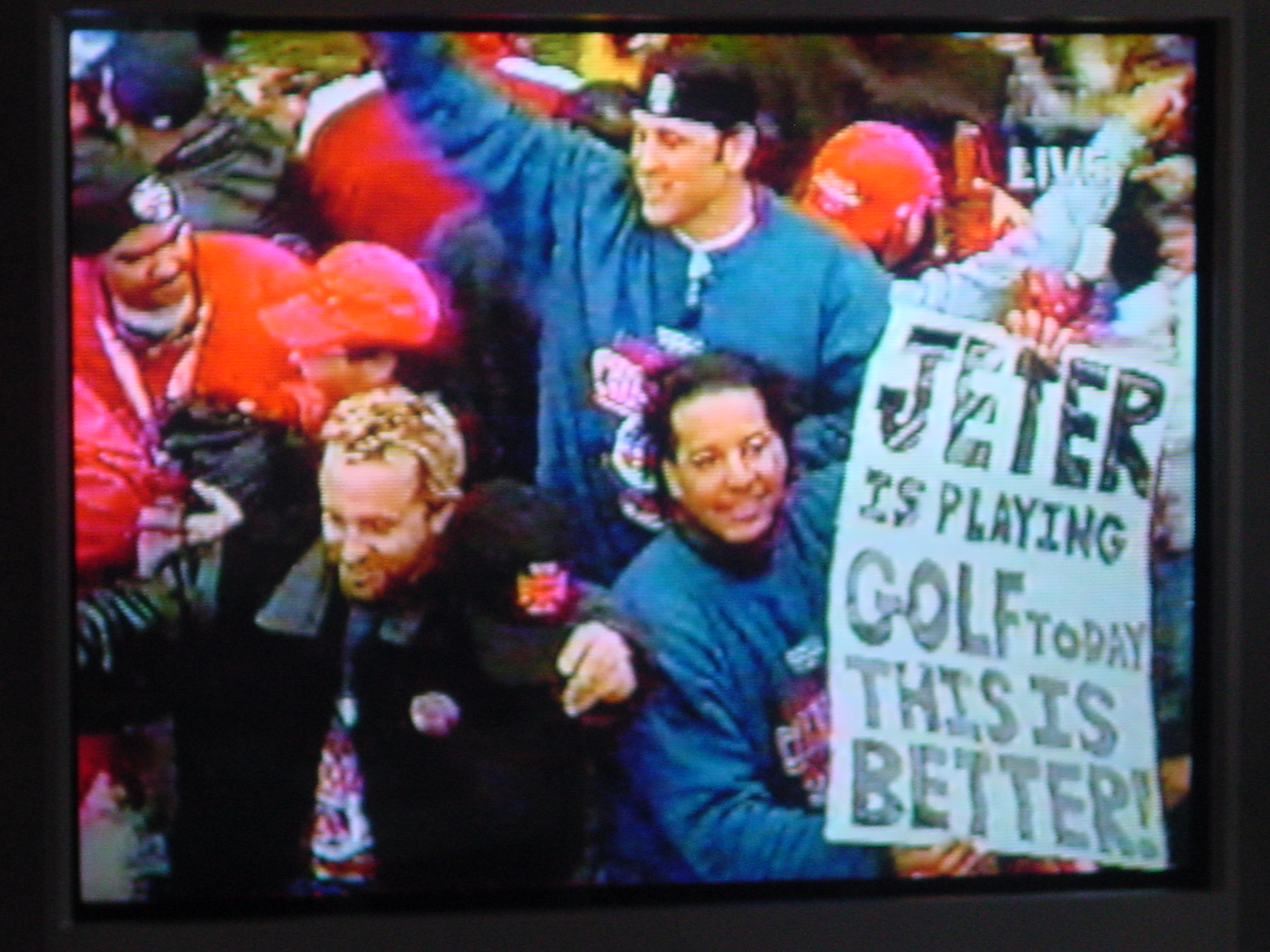 The good Lord knows that between the 1999 ALCS and the 2003 ALCS, the New York Yankees have done more damage to my soul than any woman I've ever gotten tangled up with. So it was morbidly gratifying to learn, in the latest episode of ESPN's Jeter-centric series The Captain, that some former Yankees players are still haunted by memories of the 2004 ALCS, in which the Red Sox famously pulled off the greatest comeback in MLB postseason history.
In a preview clip posted Twitter, folks like Bernie Williams and Jorge Posada wax rhapsodic about the weight they carried with them after that epic defeat, with Posada claiming the memories of Dave Robert's infamous Steal (forever capitalized) kept him up nights.
The pièce de résistance, however, is Jeets himself saying that the sign that Manny Ramirez held during the parade (shown in the crappy screenshot above that I took off my TV set in 2004) was the final nail. The sign, which allegedly a fan was holding along the parade route, said "Jeter is golfing today. This is better." The sign was one hundred percent accurate and the centerpiece of the parade. Also, Jeter says, it "made [him] sick."
Hey, these players are bazillionaires who can buy and sell me a million times. But the fact that some of those players went to bed after game seven of the 2004 ALCS with the same crushed spirits that I had after game seven of the 2003 ALCS gives me a small — perhaps very small — sense of satisfaction.
The 2004 ALCS remains the gift that keeps on giving. pic.twitter.com/T9VKVXaZ2V

— Red (@SurvivingGrady) August 5, 2022
Also, I think it's fair to say that whoever created the sign that Manny held deserves a place in the Red Sox Hall of Fame, right next to the person who took the photo of shirtless Mike Napoli sprinting down Boylston after the 2013 parade.
Right?