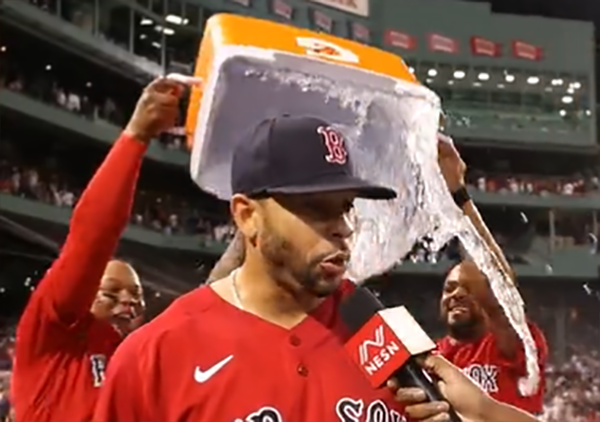 The haters will tell you the Boston Red Sox are in last place in the AL East and won't sniff a drop of the playoffs come October. To them I flip the double bird and say sometimes all it takes is a spark to set a team off on a tear. The 2002 Red Sox may have had their spark tonight, as they came back with late-inning magic to walk one off against the Yankees. For those keeping score, this was the Sox' second win in a row, and both wins came off AL East teams.
By the time we got to the ninth, this one was shaping up to be a frustrating 2-1 loss. But then JD Martinez knocked in Xander Bogaerts to tie things up 2-2, setting the table for Tommy Pham to knock in the winning run in the tenth. And Pham found out that a walk-off win at Fenway is good, but a walk-off win at Fenway against the Yankees is freakin pandemonium.
Pham also dropped the new 2022 Red Sox battle-cry during his post-game interview:
"We don't get paid for overtime" just became history's greatest quote. Never mind this "ask not what your country can do for you" garbage.pic.twitter.com/S2LQykEhwC

— Red (@SurvivingGrady) August 13, 2022
Is this the new "cowboy up"? The new "do damage"? The new "why not us"? All I know is that we needed something — anything — to kick this team's ass so that we're playing meaningful baseball in September. We may be last place in the East, but we're a mere four games out in the Wild Card race, and as anyone will tell ya, the goal is to make it to the playoffs by any means necessary. I don't care about last place, I care about cool catch-phrases and momentum, and Tommy Pham gave us both of those tonight.
And yes, it's already on a t-shirt.