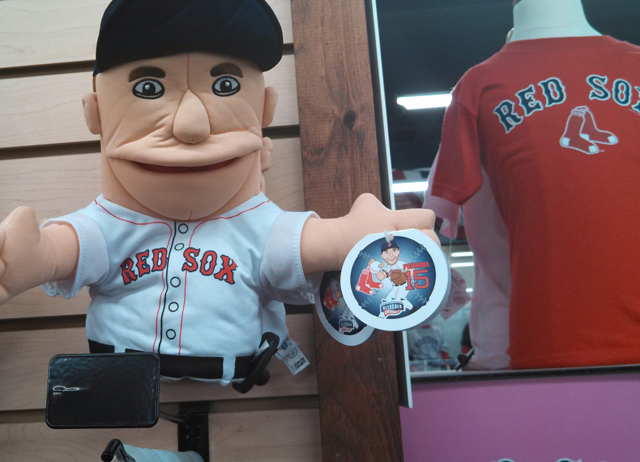 One of the advantages of living within a 20 minute drive (or one-hour drunken stumble) of Fenway Park is the ability to bask in its life-affirming glow whenever the mood sways me. Or whenever I'm asked to leave the house for being "too intense" or "an absolute asshole." And no visit to Fenway is complete without a trip to the Red Sox Team Store. Just one step across the threshold brings back memories of young me dragging my ever-patient Dad through the crowds as I hunted down every last piece of Bob Zupcic merchandise, which took about 7 seconds.
Suffice it to say, I am intimately familiar with the sights, sounds and smells of the Team Store. And like any great relationship, the longer you remain, the longer you're gonna start to recognize all the weirdness that's been bubbling beneath the surface. Last night's celebration of all things Dustin Pedroia reminded me of one of the weirdest things.
Yes, as you can see in the photo, at one point the Red Sox sold a Dustin Pedroia hand puppet. And I have to say, its existence is a real head-scratcher for me. Was there enough demand out there for a tiny replica of The Elf that you can slip your hand inside? And why is Pedey, to the best of my knowledge anyway, the only Sox player available in puppet form? Did the marketing team work up and down the roster and identify him as the most "puppetish"? If any of these have ever been purchased, exactly how are they being used? Perhaps most importantly: could they have made this thing any more terrifying?
All I know is when I gave this thing an in-store test drive with an impromptu performance of "Dustin and The Twin Hams," the cops shut me down immediately. I'm still kinda pissed about that.
SIDE NOTE: This hand puppet is not to be confused with the other Dustin Pedroia "puppet," which was a mainstay of the Fenway Bleachers during the 2007 playoffs. As I remember, that thing had moving arms and all. It was brilliant. It also begs the question: Why don't we see this kind of craftsmanship and creativity from the fans in the stands anymore? Where's the seven-foot Xander Bogaerts marionette? Do I have to do all this shit myself?