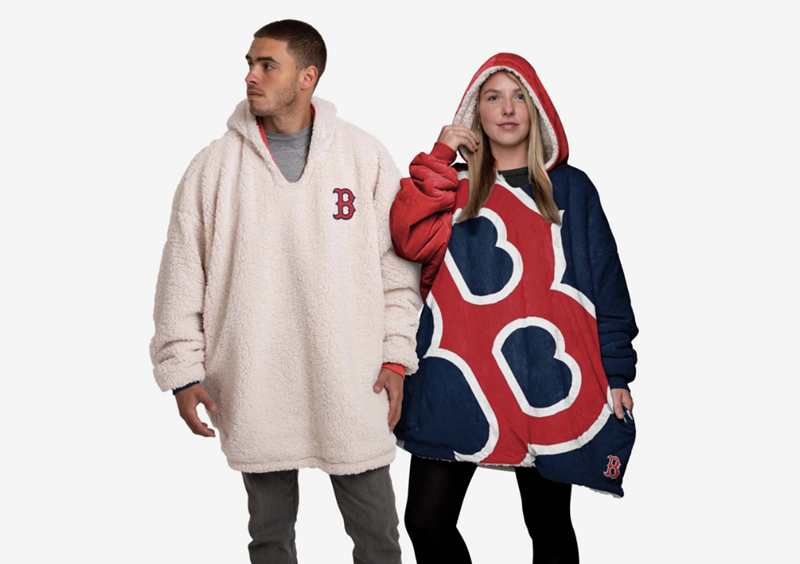 The holidays are here, and that can only mean one thing; it's time to stock up on gifts for everyone. And when you need the absolute best Red Sox merchandise for you or your friends and family, FOCO's Boston Red Sox Shop is the best place to find it.
Check out some of the products available this holiday season: You know you want to roll up to your Christmas party in style. Try the Boston Red Sox High End Santa Hat on for size and let everyone know you're a die-hard fan.
Whether you're lounging by the fireplace at home or getting ready to snap a photo for the family holiday card, Boston Red Sox Ugly Pattern Holiday Pajamas in Men's, Women's, Youth, Toddler, and Infant sizes are sure to make yours is the most stylish family on the block.
And if you're shopping solo for PJs, try the Boston Red Sox Ugly Pattern One Piece Pajamas on for size. You'll feel the warmth all winter long.
When it comes to footwear, you'll have plenty of options to choose from for everyone with the Boston Red Sox Printed Camo Moccasin Slipper, Women's Team Logo Fuzzy Fan Boot, Women's Script Wordmark Fur Cross Slide, Youth Moccasin, and Tonal Camo Clog. It's sure to get you on the right foot.
Cover up in style with Boston Red Sox On-Field Adjustable Face Covers, Clutch 2 Pack Face Covers, On-Field UV Gaiter Scarves, and Hooded Gaiters. You'll make a bold statement about your fandom without saying a word.
Buying gifts for the kiddos? Get their Red Sox Fandom started young with Boston Red Sox BRXLZ sets, PZLZ sets, and fidget toys to keep them happy and entertained.
So what are you waiting for? Prove you're the biggest Red Sox fan this side of the Green Monster and show off your love of the Sox with all these products and more from FOCO's Boston Red Sox Shop. For the rest of your Boston Sports needs Shop FOCO's Boston Apparel, Collectibles, and Fan Gear.