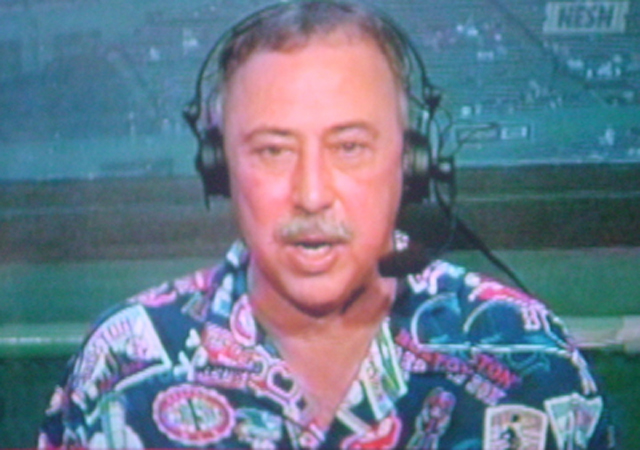 Jerry Remy has been such a fixture in Red Sox Nation that it's hard to imagine that there was once a time when he wasn't the Red Sox' color analyst. And with all due respect to pre-Remy talent like Bob Montgomery and… well, whoever else came before him, I refuse to believe it. In fact, his prolonged absences from the booth over the past few years as he battled cancer only served to remind me that a world without Remy is no place for me.
But now, we must face the unthinkable. Jerry Remy passed away yesterday at the way-too-young age of 68.
Absolutely crushed to hear of the passing of Jerry Remy. His voice was like comfort food for all of us in Red Sox Nation, in good times and bad. He & Don Orsillo could make even the most unwatchable of games effortlessly entertaining. Godspeed, sir, and thanks for all the smiles. pic.twitter.com/j8vqYY5Ktv

— Red (@SurvivingGrady) October 31, 2021
I tweeted about it yesterday, referring to Remy's cigarette-stained voice and outrageous Boston-by-way-of-Somerset accent as "comfort food" for Red Sox Nation. A day later, I stand by that sentiment. Remy was truly "Old Reliable," and his dry humor, sharp baseball instincts and seemingly never-ending bag of self-deprecating tales from his own playing career made every game a richer experience.
Let's face it, baseball is a lot of standing around waiting for something to happen. But Remy and his revolving cast of mic-mates always kept us soundly entertained, often to the point that I'd want the game action to hurry up so they could get back to their stories. He may have found his strongest ally in Don Orsillo — together, they created the gold standard for baseball commentary — but I like to think that Jerry Remy brought out the best in everyone he was paired with. As someone who travels a lot for work and experiences what other MLB teams are offering their viewers, I can say without hesitation that all of us in Red Sox Nation have been spoiled. We almost had it too good. And I wonder if we'll ever have it that good again.
The last 24 hours have seen countless Remy stories retold. I'd like to share one that's a lot more personal. One afternoon way back in 2005, I got a call from my dad, who sounded like he'd been huffing motor oil.
"Remy just said something about Surviving Grady," he wheezed.
I knew that NESN was broadcasting a spring training game that day, but I hadn't tuned in.
"Huh?" was all I could muster.
Dad continued: "During the game. I was in the other room, but I heard him say 'Surviving Grady.'"
I'm embarrassed to admit that I thought the old man was hearing things. Or, perhaps, had sucked down one too many iced teas. I flipped on the game and watched the remaining innings, but heard nothing. But later — and mind you this was pre-social media — I got a few e-mails from readers of our blog who confirmed it. Denton, my former partner in SG crime, was apparently at the game and had stormed the NESN booth to pimp our book (curiously titled "Surviving Grady"), which had just come out and sought to capitalize on the Red Sox-mania that had gripped the world.
Later that day, I downloaded the game off mlb.com (again — this was 16 years ago). And I was able to locate this magic moment in which Denton — looking rather spiffy in his cabana wear — approached the spring training broadcast booth and presented Remy with a promo postcard for our book.
Just hearing Remy say "Surviving Grady" was a big thrill for me. It still is. And I'm thankful not only that Remy gave us the plug, but that he didn't have Denton tazed within an inch of his life.