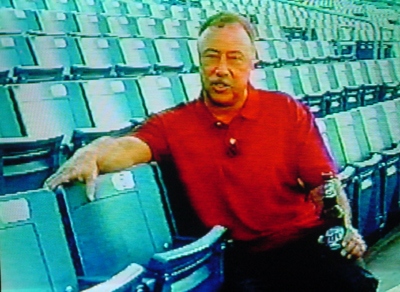 Despite a brief system glitch in New York last weekend, the Red Sox appear to back on solid footing. Last night's win put them 4.5 games up in the East, and when you look at the remainder of the ever-dwindling schedule, the Sox play the majority of their games at Friendly Fenway, where they are a staggering 43-26.
So, yes, it's time to start talking about magic numbers, especially when you consider that 14 of the Sox' final 21 games are against the lowly Rays, Jays, Reds and A's. Unless the wheels completely fall off the wagon — and I'm not envisioning any 2011-esque collapse — the Sox could have this thing wrapped up before the final week of the season, which would give us some breathing room and allow me precious time to re-stock my liquor cabinet to "playoff capacity." This three-game win streak has put me back in the line for World Series tickets quicker than I've dropped 5G's at blackjack-masters.com.
But let's forget about the game itself for a moment and focus on a side story: a couple hours before last night's contest, it was announced that Jerry Remy, currently engaged in another battle with throat cancer, would be returning to the NESN booth. I thought it was a one night thing, but Tom Caron just announced that Remy will be back in the booth tonight, and we are all the better for it. A playoff race isn't the same without the Remdog's whiskey-seasoned intonations guiding the way. Also, having him side-by-side with Eck in the NESN booth gives us that all-important "mustache" edge that we're gonna need for the late September run.
Anyway, besides Mookie's home run and JBJ's catch and another great performance by Drew Pomeranz, the highlight of last night for me was once again hearing Remy shout, "Buenas noches, amigos" to kick off the game. So here's the audio of that battle cry, and here's a download link so you can loop that shit till September ends.