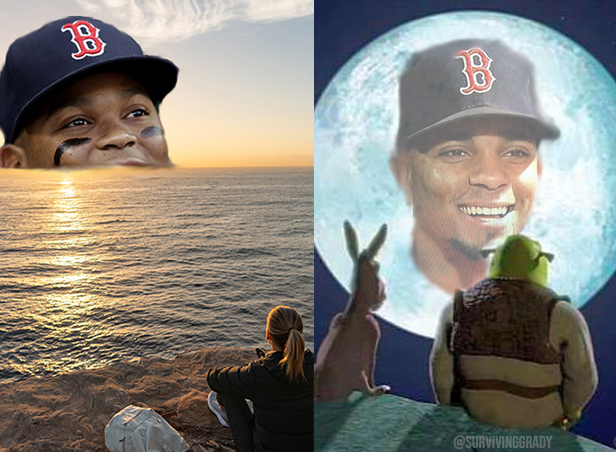 We have reached the point in the off-season where we willingly lap at any consolation prizes we can get to take our minds off how the ALCS ended for the Red Sox. Or at least I do. So I was thrilled to hear that Xander Bogaerts and Rafael Devers have both been awarded AL Silver Slugger Awards. The coolest thing about this is that they are just the fourth 3B/SS tandem in MLB history to win Silver Sluggers in the same season.
Even cooler: while this is Raffy's first Silver Slugger, it's actually X's fourth, putting him in some pretty rarefied air; only three other Red Sox players have pulled the same feat, including David Ortiz (who not-surprisingly holds the most among Sox players with 7), Manny Ramirez and Wade Boggs.
Ever since X ascended from Pawtucket into the Red Sox' starting lineup and hung tight in the 2013 postseason, becoming one of the more reliable bats as we churned our way to the World Series trophy, I've been a fan. His soft spoken demeanor, his pie-eyed love of the game, the fact that he speaks more languages than some Harvard professors, the maturity and professionalism that makes us sometimes forget that when he first came up he wasn't old enough to play roulette online here or purchase a round of Miller Lites at the Baseball Tavern. It's all good stuff.
The surest sign of his strength was how he kept it together in 2014, when he stumbled out of the gate and had all of Red Sox Nation calling for his head (or at least his demotion). A few months after getting his ring, he lost his job to Stephen Drew and could have easily lost his mojo at the tender age of 22. But the kid persevered, and the fact that he was an All-Star just two seasons later is a feel-good story that even people who hate feel-good stories should feel good about.
Similarly, Raffy has gone from being the affable butt of every "man he looks young" fans could throw at him to becoming the most reliable bat in the line-up. Every time he steps to the plate you feel there's a chance he'll go yard, and that's not a vibe we bestow on just anyone.
If nothing else, these latest accolades are a good reminder that the foundation of this team remains young and strong, and so long as X and Raffy remain healthy, the Sox can contend. It's also pretty cool that these guys are, by all accounts, good dudes. We'll take it.