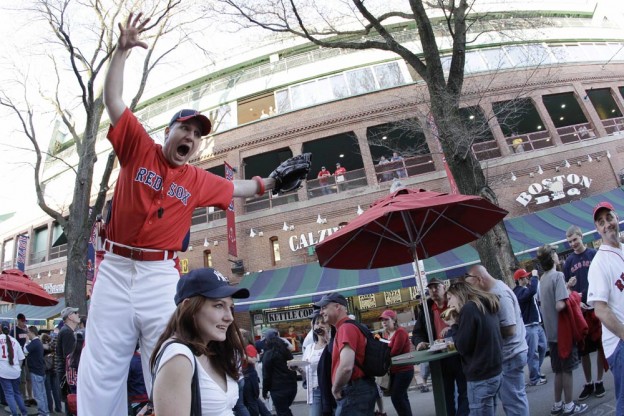 Look, I've been away for a while on my winter sabbatical and there's a lot of things to talk about. But rather than rattle on about the Red Sox bullpen or Craig Kimbrel or locking up Mookie long-term or how the Red Sox are just a little less crazy without Joe "Fightin Man" Kelly, I'm gonna talk about legs.
Specifically, my legs. Because I'm killing time between flights on which there weren't any "extra legroom" seats available, so I did what any other tall person cramming him or herself into a tiny-ass airplane seat does: self-medicated with vodka.
It got me thinking of the contortionist I have to sometimes become when I'm sitting in Fenway Park's grandstand seats. Because I am here to tell ya that if you are over six feet tall, the grandstands are no place for you.
I pick on the grandstands because they are, to the best of my knowledge, the oldest seats in the house, constructed in an era in which men wore powdered wigs and "invasion by martians" topped the list of government concerns. They are also the most ass-unfriendly if your belt size is north of 32. Despite a diet heavy on booze and Hostess products, I am not an entirely unfit gentleman, but I do clock in over 200 pounds and a good six feet two inches of pure Irish lust. That's the wrong demographic for Grandstand seats. And unless you give yourself leg-numbing injections of lidocaine (or drink the equivalent in Jager shots) an hour prior to game time, you will start suffering somewhere around the third inning.
The easiest solution, of course, is to sit somewhere else. And I always try to. Throughout my wretched existence, I've sat in just about every corner of Fenway and the most comfortable, to me, are the loge or field box seats. Also very comfy are the Monster Seats and State Street Pavilion seats, which I've been fortunate to enjoy a few times but are usually priced well out of my budget. Mine eyes have even seen the glory of the luxury suites, with thick glass windows separating me from the lower classes; big, cushy chairs with cup holders for my beer or syringe; and all the fucking chicken tenders I can stuff my cargo pants pockets with. At the opposite end of the spectrum, the bleacher seats are actually rather spacious, but I'm not a fan of the view. Also, with my Irish pallor, day games become an exercise in "will I die of sun stroke before the final out?"
On the other hand, the grandstands are usually found a lot cheaper than the box seats but with some truly exceptional views of the action that the bleachers just can't match. For example, here's a shot I took from my (painful) seat in grandstand section 25, row 2: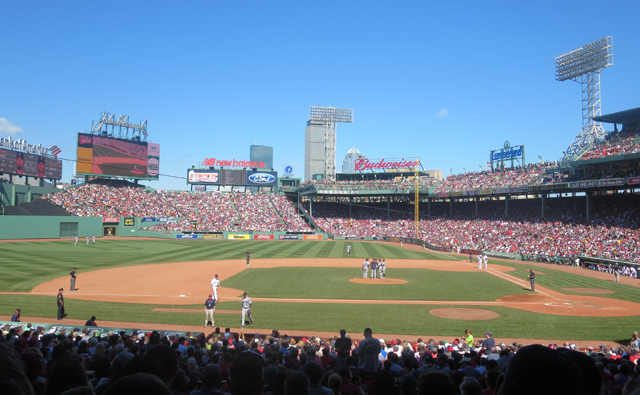 If you've ever sought tickets on StubHub or placed sports bets on the polish site zakłady-bukmacherskie.com, you'll see that grandstand seats are usually the most abundant, easy to be had day-of-game and — so long as you're avoiding the right field section — make sense. Am I willing to sacrifice physical pain and torture for a good view? Man, that perfectly describes my love life and my approach to buying Sox tickets.
But here's the thing: it took decades of visits to Fenway before I discovered something amazing. The first row of grandstand seats — specifically, the row where the upper box seats end and the grandstands begin ("row one" as the experts call it) — has a few extra inches of legroom. Kinda like Fenway's version of an airplane's exit row.
The day I uncovered this gem of information was life changing. Suddenly I was the goddam king of Siam, able to grab a relatively cheap seat and not feel like my legs were being twisted in a medieval torture device. I'll admit it gets a bit awkward when after a few twenty dollar beers I start telling the people next to me that my nutsack has never felt so unrestricted in a grandstand seat, but that's part of the "social dynamic" of any ballgame. Get to know your neighbors, motherfuckers.
Some caveats: I've only confirmed this in a few sections: 25, 24 and 23, but I assume the architecture is the same throughout Fenway. Also, row one of the grandstands can be tough to find on StubHub. And the price, as you may guess, is usually higher than, say, row 14. But if you are of the tall persuasion, looking for a good view at a good price, go for row one of the grandstands whenever possible.
Just be warned: you may end up sitting next to me.