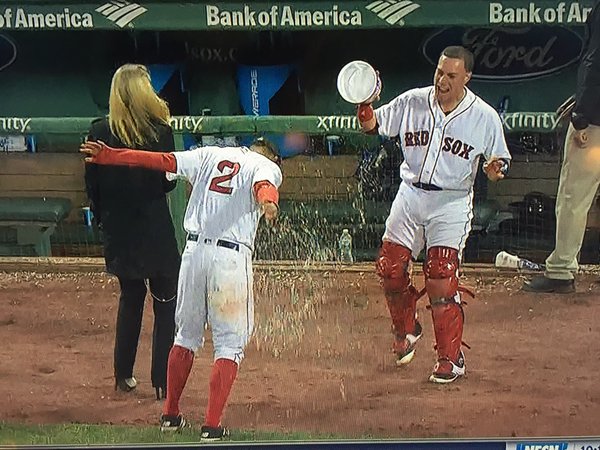 Alright, I'm probably getting ahead of myself. But every night this Red Sox team pulls something out of its collective ass that gets me thinking we're another day closer to the parade. For an idea of how good we've got it, consider the fact that Xander Bogaerts, our young, soon-to-be-All Star shortstop is leading the league in hits and batting .350 and in the middle of a 17-game hit streak, and he's like the third or fourth best story on the team.
The top story, of course, is Jackie Bradley Jr., who, last night, extended his hitting streak to 28 games. That's halfway to Joe DiMaggio's record. Will JBJ ever surpass it? I can't say I'm expecting it; getting to 28 has been amazing enough and that's only 50% of the climb. But it's been one hell of a ride, transforming Jackie from a sweetheart of a guy with a killer arm to a veritable local hero. For those who missed the game and the hit that made it 28, here it is:
28!!!! #WatchYourAssJoe #JBJforMVP #HowIsHeSoGood https://t.co/67VQTsdVRr

— Red (@SurvivingGrady) May 24, 2016
Getting back to Xander, it's amazing to see everything he's accomplished while basically playing second fiddle to JBJ (and Ortiz and Mookie and Travis Shaw, for that matter). I think that's where X works best: in the shadows, far removed from the limelight. Consider that after his splashy showing in the 2013 playoffs, all eyes were on him for a big 2014… and we ended up getting Stephen Drew Redux. In 2015, our focus shifted to two big-money signings: Sandoval and Hanley. Without our constant nudging, Xander quietly started living up to the enormous expectations that had been set for him. This year, with David Price's contract and JBJ's streak and Ortiz's apparent discovery of the fountain of youth, X has become page 6 material. And that's probably just how he likes it. But the role of superstar suits him, even if the threat of a Gatorade bath scares him shitless:
When Red Sox Nation woke up this morning, our team was in first place. Maybe they'll stay there all season and cakewalk into the playoffs. Maybe they'll crash and burn under the glare of the August sun. But you've gotta give them credit for making baseball fun again.