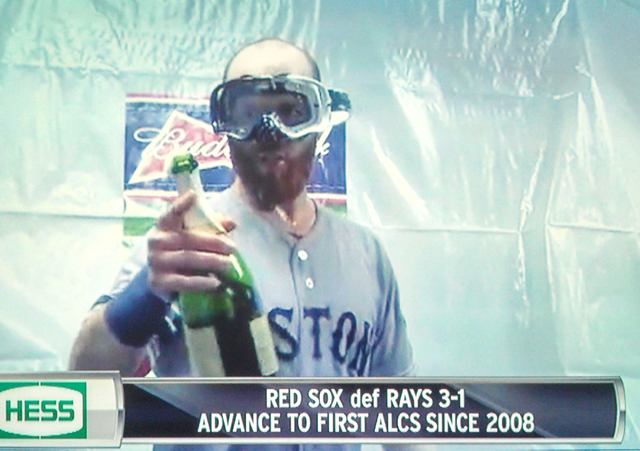 The 2020 Red Sox season is officially circling the bowl. We're just a dozen games from the final flush and with the Celtics in the playoffs and the Patriots flaunting a shiny new quarterback, there likely won't be a lot of eyes on those last 12 games. But that's where Sox ownership can flip the script and give the people what they want, which is a bit of excitement and intrigue that makes the last leg of the season more bearable yet still allows the team to tank and ensure a good draft pick.
As always, I have some thoughts, which are free for the pickin.
Bring back David Ortiz: Let's face it, the man has time on his hands. Too much time, one could argue. Why not help keep the big guy out of trouble while simultaneously boosting everyone's spirits by letting him launch bombs off the Mass Pike for these final weeks? There are probably MLB rules surrounding this sort of thing but fuck 'em. This is Big Papi. He saved the sport seven times over and is clearly the only other person besides Ron Swanson to have achieved "I can do what I want" status.
Bring back Pablo Sandoval, Carl Crawford, Edgar Renteria and Allen Craig: Since we've clearly said screw the rules (see the preceding suggestion), why not let fans relive some of the team's shittiest contracts? Make it like the Avengers of bad signings. As an upside, it'll make the 2020 Red Sox look like world beaters. As a downside, fans would likely storm the front offices with pitchforks and fire.
Dustin Pedroia Space Camp: This is really just a sidebar idea and I'm not sure whether it should be a NESN reality show or an actual camp. But just imagine the commercial: A rocket ship lands inside Fenway Park. A lone figure in full spacesuit emerges. Figure takes off his helmet to reveal Pedey himself, who says, "I'm Dustin Pedroia, inviting all you kids in Red Sox Nation to get off your asses and come join me IN SPACE." If that's not the coolest thing you've ever heard then I question your passion and respect for the game.
Release the Rusney!: Count me among those people who'd like to see the Sox get something — anything — out of Rusney Castillo, who they signed to a 7 year contract back in 2014, apparently before anyone thought to ask, "can he actually play?" Since then, the Rusdog has been toiling in Pawtucket and, one can assume, working odd jobs on John Henry's cattle ranch. Give the man a proper "welcome back" weekend at Fenway, complete with a retrospective video of his career highlights (which includes the time he held the door for an old woman at Caserta's, when he co-signed an auto loan for his just-paroled cousin, and his first home run). It's called "getting your money's worth."
Keep Tanking: As nut-kickingly bad as the 2020 Red Sox have been, I admit to taking bizarre fascination in just how wretched they can be. As I see it, if you're not gonna make the playoffs, why be just another faceless team placing fourth, fifth or sixth in the wild card standings? Take the Bobby V approach, cut the cords and see how far you can plummet. If there was ever a season to shit the bed, it's this asterisk-tainted season. My advice to ownership: Shut it down, get the choice draft picks, and start planning how you're gonna convince Mookie Betts to enter Cooperstown in a Red Sox cap.