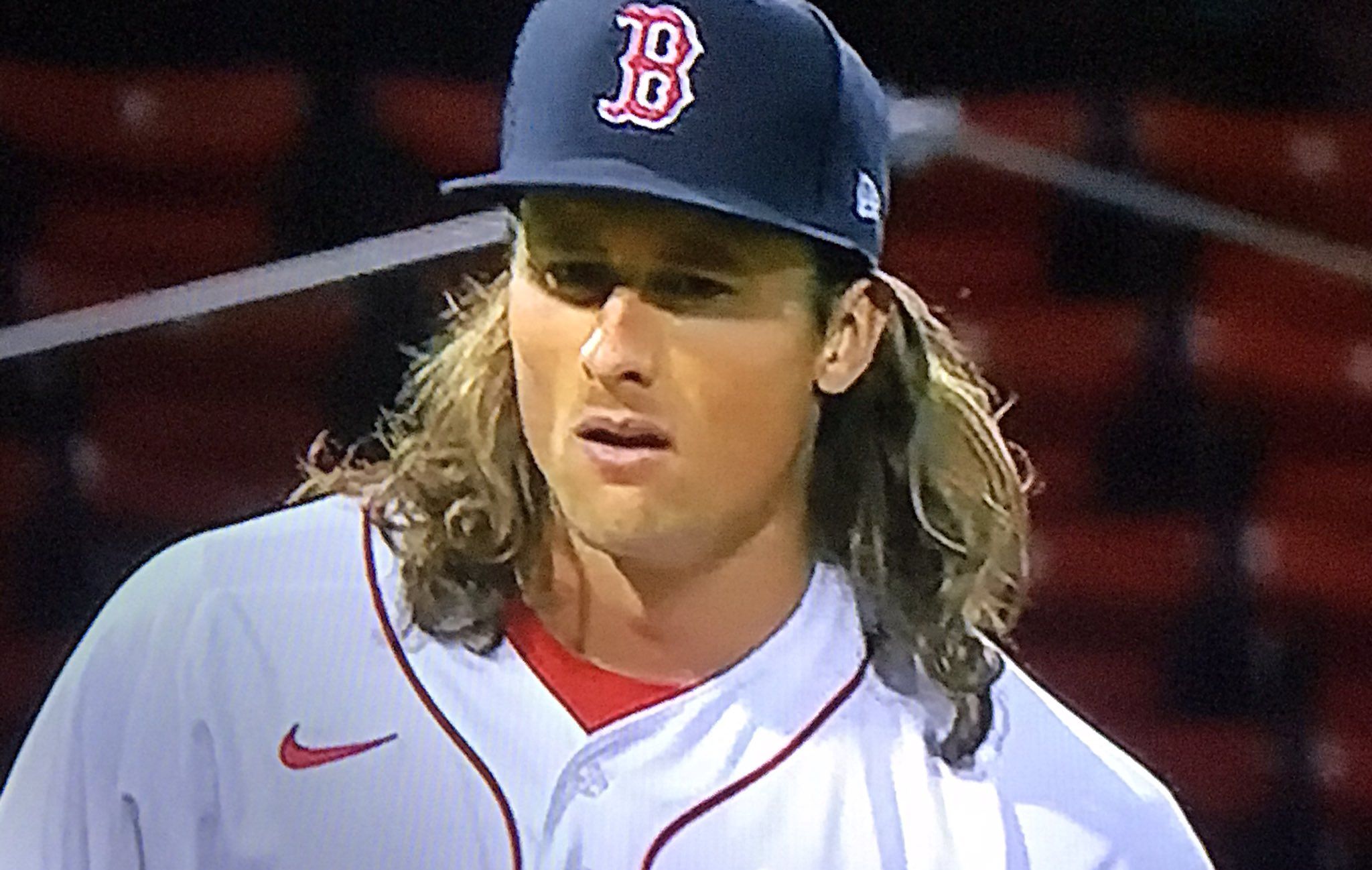 Red Sox highlights have been in pretty short supply in 2020 There's just not a lot of good you can squeeze from the second-worst record in the American League. Bobby Dalbec's been a nice distraction. Alex Verdugo looks like a future force to be reckoned with. As best as I can tell no one's been caught shirtless fondling the Wally costume or been revealed as a former member of Mussolino's inner circle, so I guess those are good things.
Quite frankly, the biggest highlight of this brief abomination of a season may be the one thing we just don't seem to talk enough about: Mike Kickham's hair. Just look at that hair. LOOK AT IT. This is almost deGrom-caliber excellence. It is hypnotic. It is near-legendary. It is fulfillment of the promise once hinted at by Henry Owen's lustrous mane. I don't give a damn about the man's win-loss record, I just want to know who does his hair. In fact, in a season in which achieving the worst record in baseball should take precedent, I am all about fielding a rotation of well-coiffed pitchers and I don't give shit one about their fastball or ERA.
Ours is a fanbase for which hair is currency. Which hangs on every Eck reference to quality "moss." Why have we not yet demanded that Kickham's hair be added to the Massachusetts state flag and/or be given its own meet and greet booth on Lansdowne? At the very least, why isn't BetQL giving baseball bettors the best first five innings odds when Kickham's on the hill?
When the Red Sox let Brock Holt go, they not only lost a player who you could plug-and-play almost anywhere and with a heart the size of Jupiter, they lost one of the team's premier heads of hair. Whether he wore it long or short, Brock Holt's hair was a gift from the Gods, and once he joined forces with Andrew Benintendi to form The Flow Bros, it looked as if hair superiority was within reach for the Red Sox. 2013 was 24/7 beards, but certainly 2017 and beyond would be all about the hair.
Well, that all went to shit. Brock's gone and Benni's done for the season. But that doesn't mean the dream has to die, Red Sox Ownership. Make Kickham our ride or die for the last few wretched weeks of this season. Have Guerin ask him a few questions about his preferred brand of conditioner. Drag out the side-by-side comparisons to '78 Eck, whose hair had a popularity ranking that was second only to Farrah Fawcett in those halcyon days. Insist that any pitchers who relieve him are given extensions or fitted for caps with long wigs as a show of respect and solidarity.
You spent bajillions of dollars shoving panda hats up our asses when Pablo Sandoval came aboard. It's time you showed similar respect to the one thing that can save us all as the 2020 team circles the toilet bowl: Mike Kickham's hair.