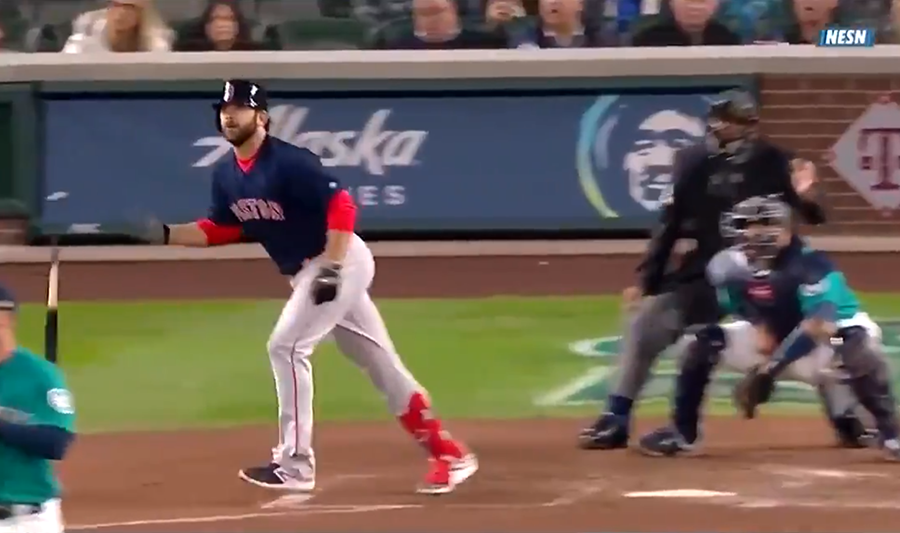 Last week, I was living the life of a quiet, undistinguished Boston gentleman. I woke up at the same time each morning for a vigorous workout and self-reflection, went to work and did everything my boss told me to do, came home to a doctor-recommended low carb meal, abused my body with a bit of alcohol (sometimes a lot), then went to bed. Wake up, repeat, etc.
Today, I'm hungover, bedraggled, eyes bagged up like I went ten rounds with Mike Tyson.
The reason, you ask?
It should be obvious. Baseball is back. More specifically, the Red Sox are back.
Just 48 hours into the new season, the Red Sox have already strapped me back into the emotional rollercoaster that I stumbled off of last October. Suddenly I'm pacing the floor again, swatting my fist at imaginary ghosts; losing my shit when Nathan Eovaldi can't find that magic that made him a folk hero round these parts and when Eduardo Nunez turns a one out, bases loaded opportunity into a spirit-crushing double play; waking up the neighbors and putting my foot through the wall (again) when Mitch Moreland comes up HUGE with a pinch-hit home run to give us the lead, and mainlining vodka when Matt Barnes comes in to close it out.
If you went to bed early, you missed the first JD home run of 2019, the first JD and Brock Holt celebratory man-hug, the first comeback win, not to mention a Vazquez home run that had me asking, "Sandy who?"
In fact, here's all the good shit that went down well after my bedtime on the east coast:
You missed a lot while you were sleeping…

But shoutout to everyone that stayed up with us! 🙌 pic.twitter.com/xT8bWe5oUQ

— Boston Red Sox (@RedSox) March 30, 2019
It was thrilling, it was cathartic, it was life-affirming… and it was only the second game of the season. Further proof that the Red Sox own your soul for the next several months. Put the rest of your body on notice.