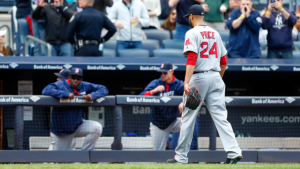 The last time David Price faced the Rangers, he gave up six earned runs in just over two innings. Miraculously, he was not tagged with a loss as the bats came storming back and the Sox won 8-7. He gets a chance at redemption tonight.
Price hasn't had a lot of success in his career going up against Texas. He's 3-4 in twelve starts with a 5.78 ERA and has only managed to last 67 innings, an average of about five-and-a-half innings per start. I would venture to say things don't bode well in the Price – Rangers rematch tonight.
Price's latest start against the Rays wasn't exactly ace-like. He gave up four runs on nine hits in six-and-a-third. After the game he came out and said "I'm just bad right now."
"Changeup, that's probably the worst changeup I've had in probably a month," Price said. "Curveball was awful. Can't get my cutter or my slider where I want to."
Manager John Farrell, who could probably be a character witness for Charles Manson, saw things differently.
"On a day when I thought overall he probably had his best stuff of the season in terms of velocity and in terms of the shape of his secondary pitches, they bunched a couple of hits together, particularly the third inning for the three runs," Farrell said after the game.
Should be interesting…