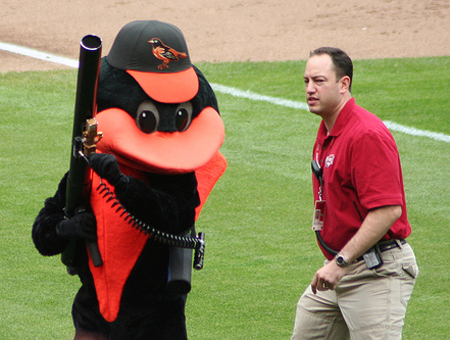 We've just hit Memorial Day weekend, so it's difficult to sit here and say that this four game set in Baltimore is gonna make or break the Red Sox one way or another. But I think I can comfortably say that it's the most important series of the year thus far. It's the Battle for the Planet of First Place. The clash of the AL East Titans. Perhaps most importantly, another chance to ruin Buck Showalter's week.
Anything can happen over the long, hot summer. But taking three of four in Camden (or even, dare I dream it, sweeping the Os), would send a message that anyone harboring illusions about winning the East is gonna have to climb over Bogaerts, Betts and Bradley to do it. Also, whichever team wins this series will have that all important "mental edge" down the stretch, which means nothing to the players themselves but gives assholes like me something to talk about. Unless Toronto regains their 2015 form (and with that line-up, you can't discount it), the Orioles look to be our strongest competition for the division. Why not give them the Charles Atlas treatment and kick sand in their faces and steal their girl? Yes, our one game lead over them is nice, but a five game gulf would be even sweeter. Is it even a possibility? Me and my beer think so.
Look, all I know is that I spent a bundle on nice seats for Fenway Opening Day this year and the goddam Orioles ruined my good time. They then went on to take our first home series of 2016. Can we please just kick their asses in their house so I can somehow feel better about it? Thank you.