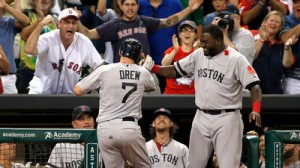 Which player would you rather pay $15 million for?
In 2013, Stephen Drew hit .253 with 13 home runs, 67 RBI and scored 57 runs. He walked 54 times and struck out 124 times. In the post-season, he was 6-for-54 (.111) with 19 strike outs.
David Ortiz last season hit .309 with 30 bombs and 103 runs batted in while scoring 84 times. He walked 76 times and struck out 88 times. In the post-season, he was 18/51 (.352) with just seven strike outs.
Drew was given a qualifying offer of 14.1 million dollars, which he declined. Ortiz will make a cool 15 million in 2014 but is looking for an extension. How can these two players even be…excuse the pun…in the same ballpark from a salary standpoint? Adios, Drew and let's begin the Xander Bogaerts era. And sign Ortiz forever. Make sense?