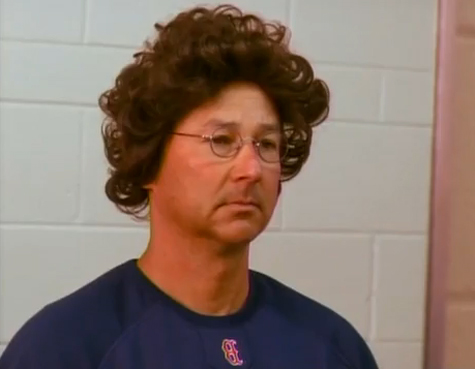 You can't win everything. So if given the choice between the individual accolade of AL manager of the Year or rolling down Boylston Street in a motherf$%king duckboat with a couple million fans giving you the glad hand, I'm sure John Farrell would have picked the latter.
Still, the news that Terry Francona earned Manager of the Year over Farrell was a little surprising even to me, a guy who drinks at least fifteen beers a day.
At the end of the 2012 season, the Red Sox were literally in shambles, a last place horse earmarked for the glue factory. Last April, we didn't know what the hell we'd be getting out of Farrell. As I said many times, just seeing the guys remember to put their pants on before coming out of the dugout would have been an improvement.
But somehow, against all odds (as Phil Collins might say), Farrell fused this collection of odd parts and role players into a team. It wasn't always pretty, but what more can you ask of a new manager than taking your team from the outhouse to the penthouse? This was an achievement that defied every MLB oddsmaker and prognosticator in the world. In my opinion, when it happens, you just have to throw all the prizes at it. Especially the one that recognizes the guy steering the ship.
I can't imagine it bothers Farrell. Winning a World Series in your first year with a new team has got to be reward enough. Still, I consider Teets getting this prize to be MLB's version of Scorsese winning the Best Director Oscar for "The Departed" instead of "GoodFellas." He was arguably more deserving in 2004, but better late than never.
And I won't stop there. I'll bet on Farrell's Red Sox over Fracona's Indians in every match-up next season. You can click here to check the current sports lines but I don't care what the odds say. We're living in Farrell Standard Time, people. And I'm sure the World Series trophy suits him better than that other piece of hardware.