INITIATIVE #1: TOM WAITS, FIRST BASE COACH


::Cracks one to right field, starts motoring to first::


I got some dragstrip courage, I can really drive a bed…


ANYONE GOT IT? I'M WANTIN' TWO. HOW DO I LOOK?


I always play Russian Roulette in my head. It's seventeen black and twenty-nine red…


WHERE'S THE CUT-OFF? I'M GOIN'. AM I CLEAR??


Bay rum lucky tiger butch wax cracker jacks Shoe shine jaw breaker magazine racks…


F$%K IT I'M GOING


Yer out!


::walking back to dugout:: Thanks a lot, asshole.


And it's you
And it's you
Shoo-be-doo, ba-ba-da
INITIATIVE #2: CLUBHOUSE SHOWERING NOW OPTIONAL


Bobby?


Yeah?


Your new rule about us players not having to shower after a game is pretty liberating, but, uh… how do I put this…


Speak up, man.


Youk's jockstrap just escaped from the hamper.


Again? So what?


This time it's got hostages.


Dammit.
INITIATIVE #3: ROBOT STRENGTH & CONDITIONING TRAINER


Player Kevin Youkilis! You are late for your mandatory massage!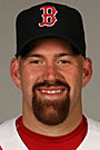 yeah, I'm gonna pass, I think. Those metal claws do a number on my…


INSUBORDINATION WILL NOT BE TOLERATED. ::Extends arms, shoots electric bolts::


Holy shitnips, that thing just vaporized Youk!


Now. Who's first for their hypodermic bran infusion?
INITIATIVE #4: JOHN LACKEY, COMMUNITY OUTREACH AMBASSADOR


WHY THE F$%K ARE THERE SO MANY GODDAM KIDS AT THE FENWAY FUN FAIR???!