Okay, so the Red Sox lost their first official game of the 2022 season to the no longer threatening Yankees. It is what it is. It's a long season, folks. Everybody's gonna win fifty games and lose fifty games. It's what you do with the other fifty games that makes the difference.
Anyway, one of the offensive stars of yesterday's game, not surprising, was Xander Bogaerts, who went 3-for-5 with a run batted in. His secret weapon may have been a pair of custom cleats emblazoned with a logo riff on Marvel's X-Men comics, complete with a drawing of X sporting Wolverine's claws.
Xander bringing the #OpeningDay cleat heat! 🔥 pic.twitter.com/bUVQIUSalI

— Red Sox (@RedSox) April 8, 2022
Of course, old shits like me know that the single coolest example of Red Sox player footwear is still the pair of shoes emblazoned with David Ortiz's smiling face that Julian Tavarez once showed up to a 2007 game in. These shoes were amazing. I mean… look at them.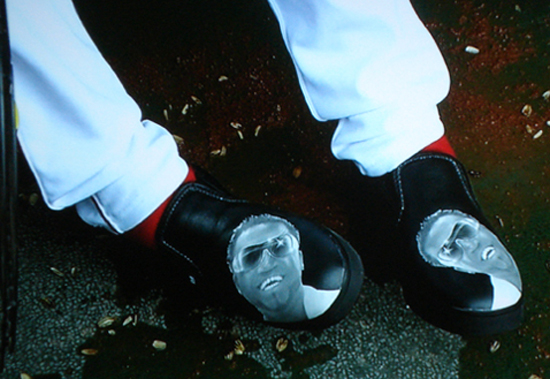 It was another interesting layer to the oddness that was Tavarez. And it launched a million questions. Where did he get these? Special order from Nike? Shipped from a lab hidden in the forests of Norway? Or, perhaps more likely, are they something he cooked up on his own?
The even bigger question is why in the hell these weren't marketed to the masses back in the day. As the Sox made their championship run in that fateful year, I could see every person in Boston sporting a pair. It remains one of the great Boston sports mysteries. Hell, I'd buy a pair of them today.
Anyway, Xander and his cleats ended up being lifted from the game with a hamstring pull in the late innings… so maybe a new pair of shoes wouldn't be a bad thing.
Sox/Yanks at 4pm. Be there, skaters.