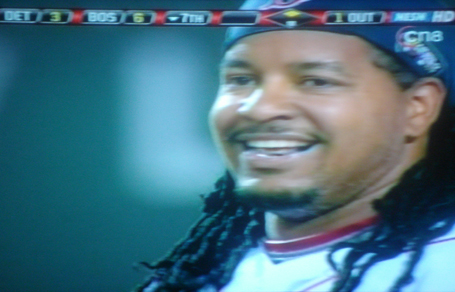 I know that last night wasn't the first time Manny Ramirez has been back on Fenway's hallowed grounds since his departure from Boston. But seeing him at the Park last night to receive his plaque for Red Sox Hall of Fame, playing grab-ass with the Mighty Ortiz and sitting with his, Papi's and Pedro Martinez' sons in the dugout seats brought me closer to those 2004 vibes than any prior visits. Things went over the top when Manny joined the team in the NESN booth and shared memories with Kevin Millar.
I am not exaggerating when I say that hearing Manny and Millar trade stories from that unforgettable postseason, including a great bit about how the players would always leave the bar tabs for Pedro or Papi, was some of the best NESN programming I've consumed since the heyday of Don and Jerry.
2004 RED SOX BROS FOR LIFE BABYpic.twitter.com/62WksyUZna

— Red (@SurvivingGrady) June 21, 2022
My question is why not make this a regular thing? If Millar's appearances in the booth this season are gonna be limited, why not make the most of them and line-up a different player from 2004 to visit each time he's there? Let's get Mark Bellhorn on to discuss his (rumored) ownership of several local Dunks franchises. Or Keith Foulke to talk about being one of the few mortal men to be able to catch and hold Jason Varitek after the final out of the World Series. Or Bronson Arroyo to break out his guitar for some between-batters karaoke. Or freakin' Trot Nixon to go off about anything he wants. Give us all the 2004 content we can handle.
Meanwhile, the present-day Red Sox just keep winning. On Alex Verdugo Chain Night the team barreled over the Detroit Tigers and shifted up to third place in the AL East standings. There are still a lot of hills to climb — they're gonna play the Rays, Jays and Yankees roughly 400 times in July — but to see everything clicking so well, and knowing that Chris Sale is soon to make his annual mid-season re-appearance, is cause for good vibes. 2004-esque almost.