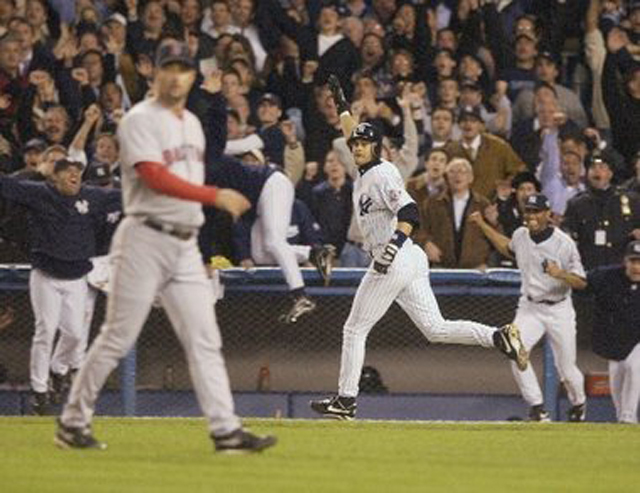 A little less than fifteen years ago, in October of 2003 to be precise, I was on a late afternoon Acela from NYC to Boston. The Red Sox's 2003 season had just flamed out in spectacularly infuriating but oddly predictable fashion, courtesy of Grady Little and Aaron Boone.
I was in New Jersey when it all came crashing down. The company I was working for had just been acquired by another, and my prospects for continued gainful employment seemed as murky as the Newark air. But that was somehow the least of my worries in the aftermath of game seven of the 2003 ALCS. I spent three days in meetings scratching illegible notes, but my mind never emptied of the image of Tim Wakefield, slumped and slackjawed, walking off the mound at Yankee Stadium while that tool of all tools, Aaron Boone, stomped his feet and threw his fists and dove into the arms of his teammates. In the belly of the beast, I couldn't escape the Post headlines, the Jeter shirts, the indefatigable chatter of another Boston choke.
By the time I staggered on to the train to return home, I was drunk. I was hungover. I was sick. I was spiraling. And all I could think was would we ever get that close again?
Of course, we did. And even though I spent a lot of time that winter fantasizing about feeding Boone's nuts to a pack of wild marmots, the 2004 ALCS became our greatest revenge. Never mind the fact that Boone wasn't playing that fateful year, when the Yanks pulled the greatest choke job in all of sports history. Stuffing them in a locker and delivering unto them a globally-televised pantsing was satisfying enough.
Or so I thought.
It turns out that the best revenge was saved for 2018. This summer. Because watching the billion dollar Yankees trip over their own dicks night after night and slip further down the AL East standings with Boone at the helm is officially the gift that keeps on giving. Last night, the Yanks dropped another game in spectacular fashion, as catcher Gary Sanchez lollygagged his way after a passed ball, allowing a run to score. The New York press, as you might imagine, was not kind:
I am here for the NY media's coverage of the Yankees' downward spiral. pic.twitter.com/VOf1JTe9fB

— Red (@SurvivingGrady) July 24, 2018
Fucking awesome, right? The Yankees, with their new manager — who I insist was only brought aboard as a "screw you" to the Red Sox — and Giancarlo Stanton, their handsomely-paid strikeout machine, are becoming more irrelevant with every passing day. Watching Boone in that dugout night after night, his face alternately shifting between the look of a man getting a prostate exam on a ferris wheel and a guy who just lost a fortune betting on his own team on mobile casino sites, has been every bit as engaging as the Red Sox' unflinching drive to the top of the standings.
And the infighting? The finger-pointing? The lingering fears (among New Yorkers) that this year's team will become a high-priced trainwreck? That's just delicious icing on the cake.
It took fifteen years, but the inevitable undoing of Aaron Boone, his epic failure and dissection on a global stage, is finally upon us.
So far, it's been worth the wait.