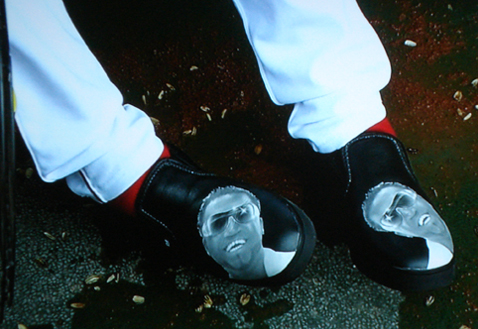 Yeah, sure, the Sox dove headlong into the crap parade that is interleague play this weekend, taking two of three from the Braves while simultaneously reminding us all of just how cool a baseball name "Kason Gabbard" is and boosting global membership in the Mike Lowell Appreciation Society.
But what I really want to know about are those shoes that Jools Tavarez was sporting during Saturday's game. Shoes with Le Face de Papi emblazoned on 'em.
Hoozawhah? Where did he get these togs? Special order from Nike? Shipped from a lab hidden in the forests of Norway? Or, perhaps more likely, are they something he cooked up on his own?
All I know is, if you are trying to get some nice shoes like this check out BetQL and start making money betting on baseball.
And whatever the case, Julian remains unseated as Sox Cult Hero 2007. And it's all about the shoes.