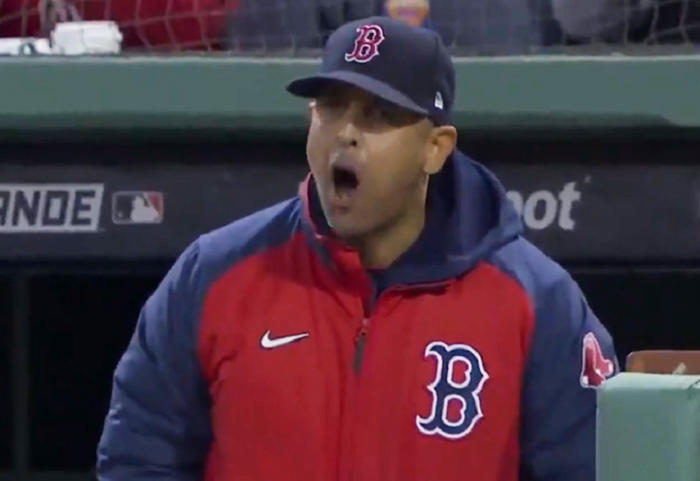 Stop me if you've heard this before: the Red Sox take it in the shorts in the first game of the playoff series, then go on a roll. That happened in the ALDS versus the Rays, when the Sox team that showed up in game one was absolutely nothing like the one that clobbered Tampa Bay the next three straight games. And it's certainly looking like a possibility after game three of the ALCS.
In game one, Houston beat us in a tight one, 5-4. But since then, it's been all Red Sox, all the time: winning two games, outscoring Houston 21-8 and basically making their opponents look inadequate in every facet of the game. The Red Sox are riding serious momentum, and they've got the Fenway Faithful behind them; that doesn't bode well for the Astros, who will be trying to stop the Boston Juggernaut with [checks notes] Zack Greinke.
Yes, the Sox have a few issues of their own, particularly when it comes to pitching. But, man, when you're bashing grand salamis as casually as scratching your ass, things just tend to fall into place for you.
But all this good fortune hasn't stopped Alex Cora from running a tight ship. Last night, after striking out noted asspain Carlos Correa, E-Rod put his own spin on the "watch check" gesture Correa pulled after his game one homer. Cora wasn't having it, as you can see from the tweet below.
I thought Cora was hyping up the guys, but he was telling ERod he's better than making the watch gesture pic.twitter.com/L43Zz17rwI

— Red (@SurvivingGrady) October 19, 2021
It's all good optics: you don't have to dance while flushing your opponent down the toilet. You let the bats and grand slams and relentless offense and the unrelenting drumbeats of impending defeat do the talking for you.
I'm not a betting man, but if the Red Sox win tonight, the ALCS is over. The Fenway crowd alone will eat the Astros alive on Wednesday. And I'm fine with that.