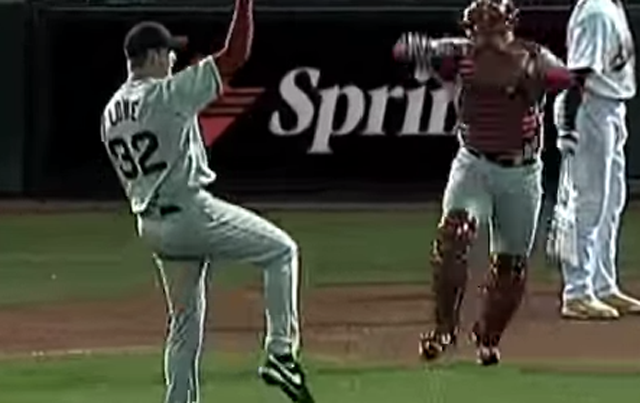 The pre-2004 postseason picture was pretty lean for the Red Sox. In their 1988, 1990, 1995, 1998 and 1999 playoff appearances, the Sox went an embarrassing 5-20, winning only the 1999 ALDS against Cleveland. Not surprising, most of Red Sox Nation figured we'd never sniff a Red Sox World Series in our lifetime.
Then came 2003. And something about that team just seemed different (although this is from a guy who swore Dante Bichette would lead us to the promised land). We had Billy Mueller, Manny, Ortiz, Nomar and, of course, Pedro, who won two-thirds of our post-1986 playoff victories. It was a pretty stacked team with solid role players and a couple pitchers not named Martinez who you could actually rely on. One of them was 17-7 Derek Lowe.
The Sox made the postseason that year, but game one of the ALDS, against the Oakland A's — who played Green Goblin to our Spider-Man through the late '80s — seemed a harbinger of more bad shit to come. The Sox held the lead until the ninth when the A's tied it up. Then, in the twelfth, Ramón Hernández shocked our balls off with a two-out bunt to score the winning run off D-Lowe. Lowe was pissed and, I'm assuming, silently swore revenge.
You know how this one played out. The A's came to Boston up two games to none, but the Sox won the next two, setting up a winner-take-all game five in Oakland and leaving us on the verge of winning our second playoff series in 17 years. And Lowe's relief stint to close out that game is still a thing of beauty.
This was one of the most thrilling, grind-yer-nuts-on-the-cheese-grater conclusions to a Sox playoff series ever, a whole year before the 2004 ALCS turned us into caffeinated zombies. And even though we held a measly one run lead in the bottom of the ninth and the A's had the bases loaded with two outs, Lowe seemed remarkably poised. Meanwhile, I was watching it unfold on TV, mainlining light beer, pacing and swearing like a madman and ready to punch a truck if we lost.
When Terrance Long stepped to the plate, charged with keeping the A's alive for another inning, Lowe dispatched him with an absolutely filthy pitch that started inside and curved out gorgeously over the plate. Game over. Cue chaos.
Of course, there was more to the tale. Although the MLB clip on YouTube edits it out, Lowe's motion after that final out, seen in the GIF below, is… interesting. Miguel Tejada swore it was an obscene gesture at the Oakland bench. And, yeah, it was, confirming that Lowe was still as pissed as we were about how game one ended. But as I've said before, it's your basic "bite my tweeter" maneuver; totally acceptable considering the stakes involved.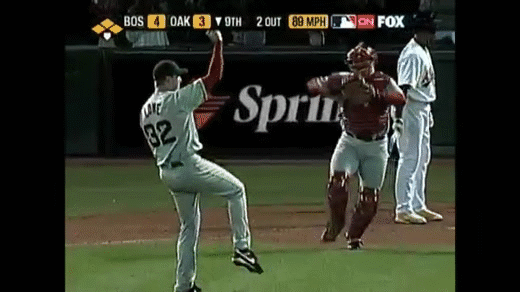 As it turns out, we had to wait another year to get to the promised land, and even then, Lowe nailed the wins in the deciding games of the ALDS, ALCS and World Series. But it was that 2003 ALDS win that I'll remember as D-Lowe's ballsiest moment in a Sox uni.