This has been an interesting season to say the least, complete with a stumbling out of the gate against the Orioles, a summer surge, a late-season swoon, and a literal race to the finish line. But now, after all that bullshit, the Red Sox actually find themselves in an ideal spot: tied 1-1 against the powerhouse Rays and needing to just win two games at Fenway.
I don't know about you, but I like those odds. I like them so much, I kinda wanna print them up in big, bold fonts and stare at them all day, or at least until first pitch. I want to take the drinking at my local, show them off to the boys and maybe go for a ride down the Cape or someplace nice. I want to get to know their parents, their dreams and perhaps the precise time they plan to rain unholy terror upon the opposing team for Tampa Bay.
But most of all, I just want to bask in them.
After game one, hope wasn't quite lost, but it wasn't quite fully moved in yet. After game two, hope was back, holding a boombox over its head like Lloyd Dobler and cranking "Shippin Up to Boston" at a disturbingly high volume. And we jumped out our bedroom windows and into its waiting car with wild abandon. At least I did.
As referenced earlier, the Sox' situation is ideal. They are playing at home. They have the momentum. They have the fans behind them. They have Nate "I pretty much single-handedly whipped the 2018 Dodgers into submission" Eovaldi. They have their opponents backed into an absolute must-win situation, lest they face an elimination game at Fenway Park tomorrow night. It's hard to imagine the mercurial 2021 Red Sox in a position to knock the mighty Rays off their pedestal and advance to the ALCS. But anything can happen. Just ask Mark Bellhorn.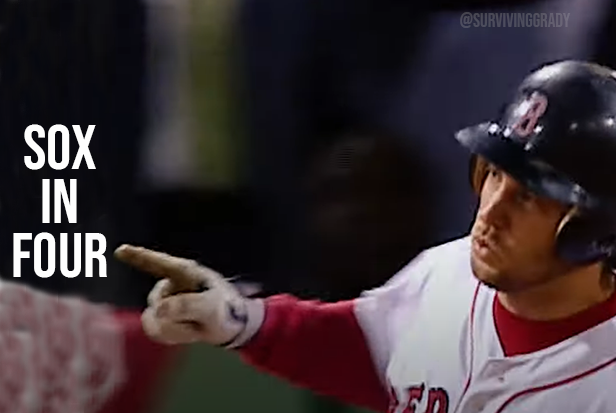 All I know is that it's October in Boston and their will be Red Sox playoffs baseball at Fenway Park today. As a guy who grew up at a time when Red Sox playoff success was as rare as your Uncle Vic showing up sober to Thanksgiving dinner, I am here to soak up every goddam second of it.
Get your puffy foam hand, touch all your Pedro Martinez action figures, steal a mannequin from the local department store, dress it as John Lackey and set it up with an ideal lighting situation in your TV room. This is October Baseball and the Red Sox are in it. Big pants required.