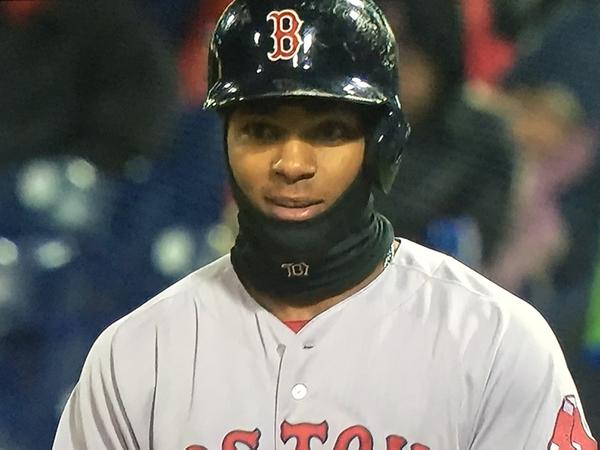 Two things should be fairly obvious to even casual readers of this blog. First, I'm a bit of a drunk. Second, I love me some Xander Bogaerts.
Ever since he ascended from Pawtucket into the Red Sox' starting lineup and hung tight in the 2013 postseason, becoming one of the more reliable bats as we churned our way to the World Series trophy, I've been a fan. His soft spoken demeanor, his pie-eyed love of the game, the fact that he speaks more languages than some Harvard professors, the maturity and professionalism that makes us sometimes forget that when he first came up he wasn't old enough to purchase a round of Miller Lites at the Baseball Tavern. It's all good stuff.
The surest sign of his strength was how he kept it together in 2014, when he stumbled out of the gate and had all of Red Sox Nation calling for his head (or at least his demotion). A few months after getting his ring, he lost his job to Stephen Drew and could have easily lost his mojo at the tender age of 22. But the kid persevered, and the fact that he was an All-Star just two seasons later is a feel-good story that even people who hate feel-good stories should feel good about.
In the haze of his struggles it was easy to lose sight of just how smoothly he slid into our hearts and minds during the 2013 postseason. Cast among the superstars and journeyman players on the sport's biggest stage, he looked at times like a seasoned vet. Calm, cool, collected and making shit happen. And, on top of it, a sweetheart of a guy by all accounts.
In 2018, another year that will live on in the hearts of Red Sox fans, Xander was one of the first ones blazing out of the gate — the harbinger of all the good things that were to come. Kid even hit a home run in his rehab stint with the Paw Sox, immediately justifying my decision to hitchhike pantsless to McCoy that night.
One of my favorite Bogaerts moments came in game six of the 2013 ALCS. And, yes, it's impossible to look at that game as anything other than The Shane Victorino Happy Hour. But earlier in the fifth, when there was still no score and Max Scherzer was making a pretty good case for a game seven, going 14 batters without surrendering a hit, Bogey stepped to the plate with two outs and nobody on. On a 3-2 count he launched a screaming drive to left center that, had it been just a few feet closer to dead center (or had John Henry invested in a goddam wind gun for the Monster seats), would have ended up in the bleachers. Instead, he got a double and was knocked in on the next pitch to Ellsbury. Just like that, the seal was broken. And it was clear to me, and everyone in Red Sox Nation, that Xander belonged in an MLB starting lineup.
It was that moment that kept replaying in my head as Bogaerts fumbled through 2014, amidst "L'affaire de Drew." I knew he had it in him. I knew that guy from the 2013 postseason was in there. It was just a matter of reconnecting with him. Since then, we've seen a lot of steps forward.
Which brings us to today.
Every off-season, much to my chagrin, Bogey's name seemed to surface in trade talk. And I was always slightly nervous that we wouldn't have the chance to watch Aruba's greatest export play his prime years in the home laundry. So I was happy as hell to see the Red Sox lock him up, signing him to a 6-year, $132 million dollar extension.
Having never been a professional ballplayer, I can't speak to what it feels like to be nearing a contract expiration and wondering if your team gives enough of a shit to keep you around. But hopefully this move gives X even more confidence in his value to this team… and this town. One less thing to worry about in the grand scheme of things.
The revolving door of shortstops has been entertaining if nothing else, but I'm glad to see it finally stop spinning. Even though Xander's name is nowhere near as much fun to pronounce as Marco Scutaro's, he's a player I'd definitely like to see play his entire career in Boston.
In the meantime, I'll just keep rooting my balls off for young Xander B. You probably should, too.