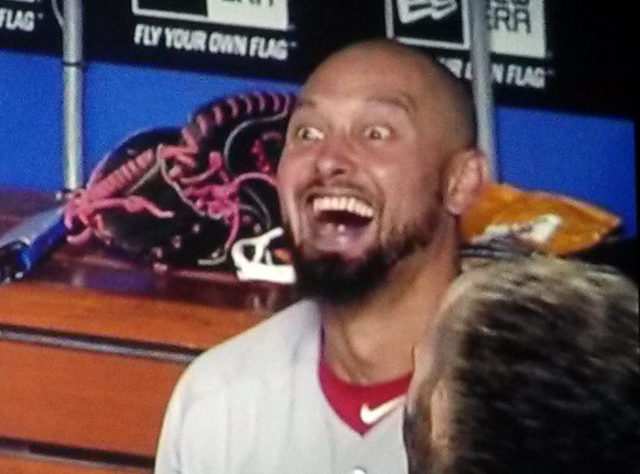 Today, the great Shane Victorino announced his retirement from baseball. Although he'll forever be remembered as part of the unsinkable, unshave-able Red Sox 2013 championship team, the Flyin Hawaiian will retire as a Phillie, doing one of those one-day-contract things that seem to be all the rage now. Whatever. We would have turned the entire Kenmore Square area into the world's biggest fucking luau for the guy if he'd retire a Red Sox, but such is life.
Anyway, the point of this post is to once again cast light on the single worst take ever to spring forth from my keyboard. Granted, in doing this God-forsaken blog for the past 14 years, I've had a number of horrific takes, from guaranteeing a Brad Penny Cy Young to recommending readers trade their 401ks for Abe Alvarez rookie cards. Some good stuff to take to the mobile casino sites.
But the worst of all occurred the night of October 19, 2013, during game six of the 2013 ALCS. The Sox led the series 3 games to 2, but in the seventh inning, they were down 2-1. With the bases loaded after a Gomes double, a Bogaerts walk and Ellsbury (remember him?) safe on an error, Victorino lumbered to the plate. And I let this tweet fly:
Hate to say this but I'd rather see Drew up right now than Victorino.

— Red (@SurvivingGrady) October 20, 2013
You all know what happened next:
Look, I'm not gonna hide from it. I'll own ever ounce of this tweet. But the 2013 ALCS was a tough time for me. Lots of drinking. A drawn-out battle with tartar. My Camry radio shit the bed. Bad times. So I may not have been thinking straight.
But I'm happy at how it all worked out, and I'll never listen to Bob Marley without recalling the Magic of Victorino.