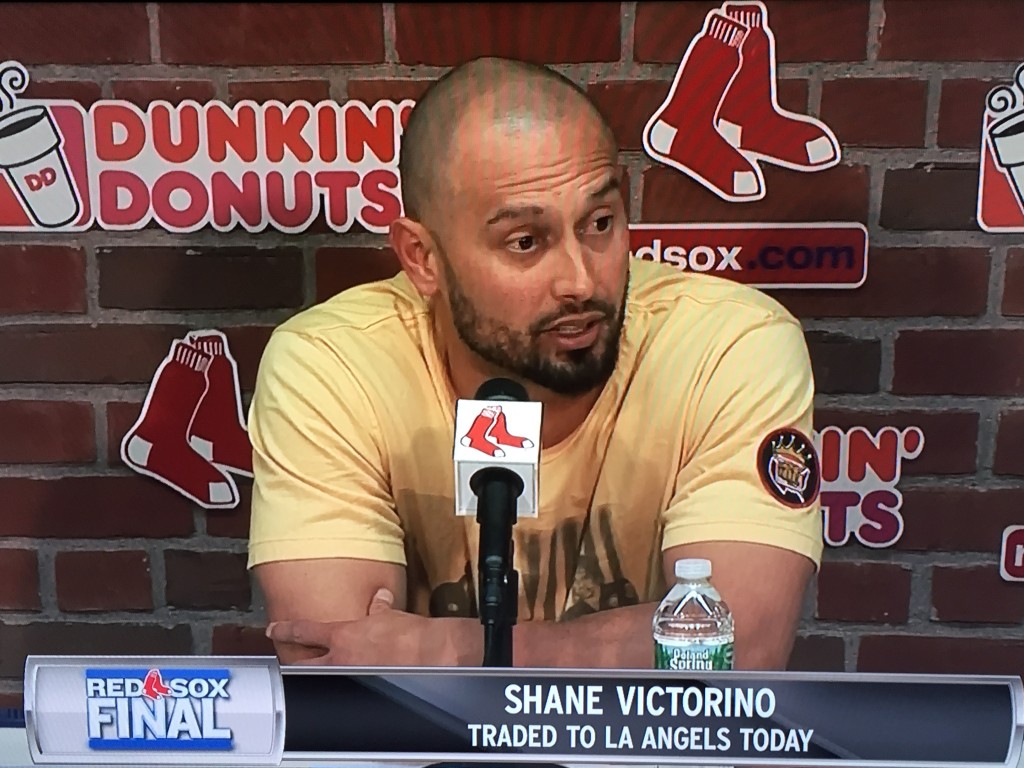 Baseball is a temporary thing. It only sticks around for the warm months, and the players come and go like a revolving door. Gabe Kapler becomes Matt Clement becomes Mark Kotsay becomes Erik Bedard and numbers get shuffled and faces change and before you realize it, we're all just rooting for laundry as Jerry Seinfeld would say.
But watching Shane Victorino break down during his post-game press conference while discussing his trade to the LA Angels and what playing in Boston meant to him reminded me that sometimes, even in a short tenure, players can make a powerful impression and build an inexorable bond with their cities.
Shane wasn't here long. Roughly two-and-a-half seasons longer than Dave Roberts was. And he spent a great deal of that time in various stages of injury or repair — a point not lost on me in many a post. But he contributed two of the most memorable hits of the 2013 postseason: his grand slam in game 6 of the ALCS and his bases-clearing triple in game 6 of the World Series. Hits that represented the final nails in the coffins of the Tigers and Cardinals, respectively.
I've probably watched that clip a million times, and I still wanna jump up out of my seat, throw cigars at my neighbors and drop a couple grand at casino.com when that ball clears the Monster. It's easy to think that these moments matter more to the fans than the players who, over the course of a 15 year career, may recreate them half a dozen times for a half dozen different teams. But Victorino's heartfelt farewell reminds me that what the 2013 Red Sox did — and the city they did it for — was just as special to the players as it was for us.
Most of that 2013 team has moved on. Nap and Koji may be headed out by week's end, too. I don't recall any of those other players' departures being anywhere near as emotional as Vic's. But this one got me right in the feels. And I walk away somehow respecting him more.
I wish him well, and I'll always be thankful for what he did to help make 2013 so goddam awesome.