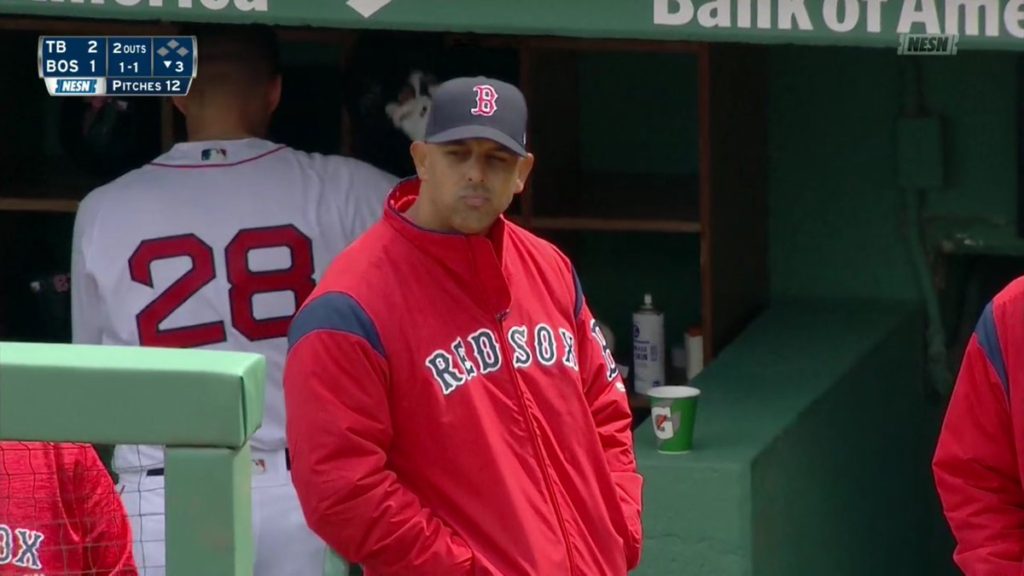 Look, I don't care if it's against the Rays or the Marlins or the Bad News Bears or the Backstreet Boys or the cast of "Stranger Things." The Red Sox have morphed into a winning machine and I'm convinced that any losing they do from now until the end of the season will be done strictly out of sympathy.
I may have only kinda thought this before today's game, when the Red Sox were 7-1 and putting never-a-sure-thing E-Rod on the mound. But now, after witnessing a Red Sox comeback for the ages that saw the team rally from a 7-2 deficit in the eighth inning to beat the Rays 8-7 for their eighth win in a row, I am 100% certain of it.
Alex Cora is a wizard. Just look at the screenshot up there. This was taken in the second inning when the Sox were already facing a deficit and E-Rod looked about as effective as a pile of uncooked spaghetti. Does he look worried? Does he seem concerned? Guy is just relaxin' in the breeze, probably watching a Cheech and Chong movie in his head, or thinking about that leftover steak tip dinner waiting at home in the fridge. The last thing on his mind is the game because he seems to have inherent knowledge of the impending comeback.
And that comeback literally defied description. As noted, the Sox were down, 7-2 in the eighth. Half of the park had already emptied, the other half were just waiting out their beer buzzes and figuring a seven run streak was as good as things might get. But Cora knew. Somewhere, somehow, he flipped a switch and his team went into ass kick overdrive. With two outs, the Sox conjured six hits and six runs and left the Rays — and most of Fenway Park — wondering what the fuck just happened. Did he have money on the team at freebets.org.uk? Who knows? But I'll be betting on the Sox eight days a week from here on out.
It was a majestic performance, marred only by an injury to the best player on the team, the King of all Kings, the Pride of Aruba, Xander Bogaerts. It doesn't seem so bad in this video, but the kid had to be helped off the field and looked anything but good.
Yesterday's offensive hero, today's casualty. Ouch. pic.twitter.com/fTuiwbsr8t

— Red (@SurvivingGrady) April 8, 2018
The Yankees are here starting Tuesday. So it's big pants time. Can the Sox keep the streak alive? I guess it depends on just how sorry they feel for New York.