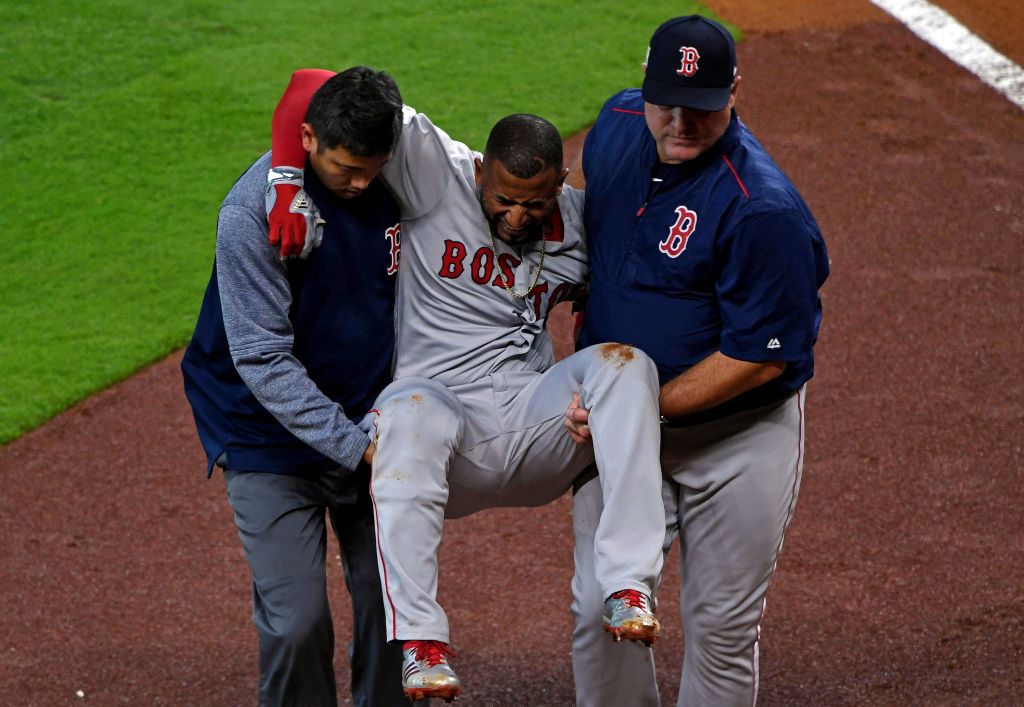 Everything you needed to know about the Red Sox' chances in the ALDS were painfully apparent in the first inning of game one. That's when Eduardo Nunez, who was penciled in to start with assurances that his knee woes were behind him, folded like a deck chair during his first at bat and had to be carried off the field.
Little more than 24 hours later, the entire Red Sox team had to be carried off the field in Houston, where they were outhit, outpitched, outclassed and outquaffed, looking very little like a team with any spark left in them, let alone enough to suppress the Astros juggernaut for the next three games.
The first two games of the ALDS have been a miserable, excruciating experience that has seen the Red Sox somehow perform far worse than they did in their short 2016 postseason appearance, when they were dispatched quickly and quietly by the Cleveland Indians. And they're not making vodka fast enough to match the rate at which I need to drink it to bury the pain. This is a problem.
This much we know: Chris Sale, who just two months ago was racking up Ks and drawing comparisons to Pedro Martinez and Roger Clemens and Luke Skywalker picked a miserable fucking time to revert to mere mortal. In just five innings, Sale gave up nine hits, three of them leaving the park, and a staggering seven runs. He left the game with a 12.60 postseason ERA, which I can say with some authority is considerably less awesome than what we'd hoped for. In the span of two hours, Sale morphed from Pedro to Ramon Martinez, becoming the second handsomely-paid starter in as many years to give us nothing in a critical October start. And he's sending me to the online casino.
Also, the offense is non-existent. I know the Red Sox bats were never a serious threat — Mookie Betts' team-leading 24 homers ranked 40th among the entire American League — but I hoped they'd find some kind of spark or consistency in the postseason. Instead, they've been outscored 16-4 across two games and could not look anymore lost at the plate. Mookie is one of the brightest spots at 3-for-8, while Benintendi is 1-for-8, Pedroia is 1-for-6 and Xander continues to spiral, going 0-for-9 in the leadoff spot. It's actually painful to watch, and I know this, because my balls were in a waffle iron for most of game two.
So now the Red Sox are in the unenviable position of having to win three in a row. Can they do it? Fuck, anything's possible; I wrote them off more times than I care to remember in 2004. But this team seems so… rudderless. Uninspired. Like they're all so amazed that they made it to the postseason they didn't really have a plan for surviving it. We can point fingers, we can bitch and moan, but it all comes down to this: the Astros are hungrier. They want this more. Like we did in 2013, they're carrying the entire city on their shoulders, becoming the one good thing in what has been a remarkably shitty year for Houston. It's sort of a mirror image of what the Yankees are facing in the other ALDS series, where they're getting stomped by a Cleveland team that's still seething from losing the World Series. That hunger makes the difference, and the Red Sox just don't seem to have it.
Can this all change in a heartbeat? Can Fister shut them down tomorrow and Sale come back in game four and redeem himself and Price make some sort of hero's return to start game five? Hell, this is baseball. Anything can happen. And if this all goes down while Guerin Austin's sitting next to me on my couch with her tongue in my ear, even better.
Right now, the Astros are the better team, and I fully expect them to advance to the next round. But I've got a case of vodka, a fridge full or beer and some unopened whiskey, and I'm more than happy to watch the Red Sox prove me wrong.