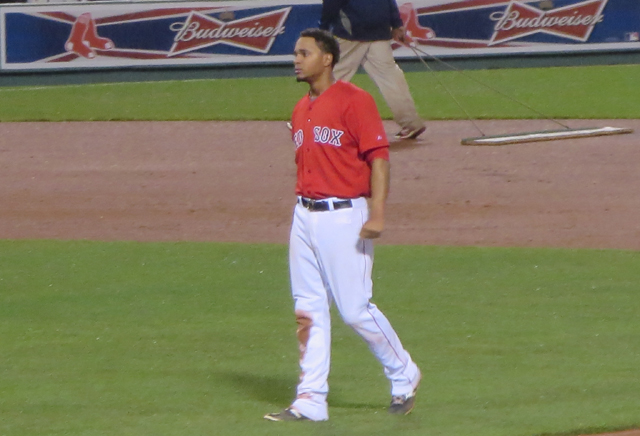 I'm six beers deep in a dodgy bar in New Jersey. I'm sliding dangerously close to "things I can't explain in an expense account" territory. I have little to no idea how I'm getting back to my hotel… or exactly where that hotel is.
Oh, and the All Star Game starts in just a few hours. And I couldn't care less.
Look, I don't want to sound bitter. The Red Sox are a shyte team this year, and nobody goes to lengths to turn players from shyte teams into All Stars. But every team — even the most spirit-stompingly atrocious of teams — gets to send at least one player to the All Star Game. And that's the spot I'd been mentally holding for Xander Bogaerts.
Two things should be fairly obvious to even casual readers of this blog. First, I'm a bit of a lush. Second, I love me some X-Man. Ever since the dude came up and hung tight in the 2013 postseason, becoming one of the more reliable bats as we churned our way to the World Series trophy, I've liked the kid. His softspoken demeanor, his pie-eyed love of the game, the fact that he speaks more languages than some Harvard professors, the maturity and professionalism that makes us sometimes forget he can just barely purchase a round of Miller Lites at the Baseball Tavern.
Last year, it was tough to watch the kid struggle. To hear fans calling for his demotion. To see Stephan Drew helicopter in to take over shortstop. To see him flounder at the plate and seem to question the very talent that brought him here.
In my mind, the All Star Game would have been the sweetest vindication. A chance to bury the specter of last season and let the world in on the Magic of Bogaerts. Never mind the fact that the kid's put up numbers to warrant it; his journey from the outhouse to the penthouse in just one year would have been one of baseball's feel-good stories for the ages.
And I can only imagine how the news would have been received in his home country of Aruba, where Xander is pretty much Prince of the island, complete with his face on soda cans and unlimited credit at the Royal Casino. If it meant more interviews with his mom, I'd be all for it.
Unfortunately, it was not to be.
I've got nothing against Brock Holt. I'm happy to see our team represented, and I know that Brock and his hair will do a great job of that. But Xander Bogaerts was the more deserving player.
So when the All Star game starts tonight, I won't be watching. Hell, I might not even be in this bar (provided I can find someone to pay my tab). But wherever I am, I'll be looping these Vines.
And that, as they say, is that.