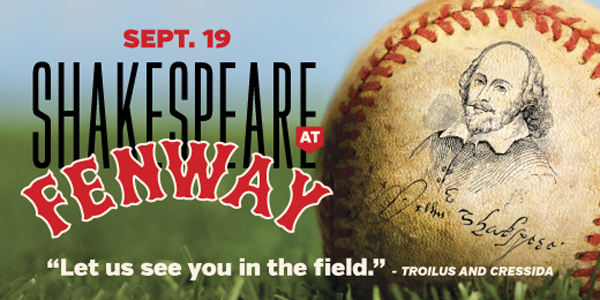 The Red Sox have always been this city's personal embodiment of a Shakespeare play. For six months each year they bring us comedy, tragedy, farce and guys with unsightly beards. So it makes sense that someone finally got the bright idea to present some of the Bard's most celebrated works in the place where ecstasy and misery have been body-slamming each other for decades. And by Bard, of course, we don't mean Daniel.
This Friday, the Commonwealth Shakespeare Company presents Shakespeare at Fenway, which will bring English majors and sports fans together — at last! — to see local and national celebs in famous scenes from the works of one the greatest playwrights of all time, second only perhaps to Peter Gammons. For us card-carrying members of the unwashed masses, it's a once-in-a-lifetime chance to get a bit of culture in the world's most iconic ballpark. So, win-win.
Eager to learn more about this event, I connected with actress and Sox fanatic Kerry O'Malley, who's been in half-a-bazillion TV shows, plays and movies but is perhaps best known for her work in Shameless, Boardwalk Empire and Those Who Kill. She was kind enough to discuss this production, in which she'll be sharing a stage with other insanely talented actorly types, like her bro Mike O'Malley (forever The Rick), Christian Coulson (Tom Riddle from the Harry Potter flicks), Jay O. Sanders (from JFK and Person of Interest) and many, many more.
Red: There's something so profoundly Shakespearean about the Red Sox, it makes me ask, why has it taken this long for someone to take the logical step and connect the two?
Kerry: Great question! I know Mayor Menino was behind this initiative for a long time, as he had a real desire to promote the "ahts" in Boston. I think the stars had to align in terms of scheduling, having the park available, having the Commonwealth Shakespeare Company available and having the funding available. And it just so happens that CSC is launching its twentieth season, so the timing seems kind of perfect! Steve Maler, the artistic director and founder of CSC is very interested in making CSC a cultural institution in Boston and bringing Shakespeare and the arts to everyone, not just people who have money who can buy expensive theatre tickets. They've provided free Shakespeare every summer on the Boston Common, and their mission is really to bring these plays to people who might not otherwise see them. To have the partnership of the Red Sox is a huge step for them. And it seems both organizations are definitely interested in giving back to the community. Two Boston institutions, two great summer traditions, what could be better? I am thrilled to be a part of it!
Red: This performance will include famous scenes from some of Shakespeare's works. Can you drop a few hints as to what we might see and what we can expect?
Kerry: There will be scenes and songs! I will be singing, Broadway actor/singer Max Von Essen will be singing, and there'll be songs from Broadway shows based on the plays of Shakespeare, like West Side Story; Kiss Me, Kate and The Boys from Syracuse. A local band is doing a bluegrass version of "O Mistress Mine," one of the songs from Twelfth Night. There will be scenes from Othello, Much Ado About Nothing, A Midsummer Night's Dream, Twelfth Night, Romeo and Juliet, Richard II, Macbeth, The Taming of the Shrew, the Tempest and a few other things! I am playing Olivia in a reprise of a scene from this summer's production of Twelfth Night with the divine Marianna Basham as Viola. My brother Mike is playing one of the mechanicals in Midsummer. Not sure what Neal McDonough is doing, but he'll be there. We have such great actors! So exciting!
Red: How will the stage be set at Fenway for the performance? We've seen all kinds of interesting configurations for concerts and whatnot.
Kerry: A stage will be set up over the home dugout, facing the grandstand. Only that portion of the grandstand will be used for seating, which I think will encompass about 6,000 seats. We played to crowds of up to 10,000 a night on the Common this summer! Over 100,000 people saw the show! For free! Isn't that so great?
Red: It is. We need to bring the Bard to the masses. How did you become involved with the Commonwealth Shakespeare Company?
Kerry: Artistic Director Steven Maler and I were classmates at the American Repertory Theater Institute for Advanced Theater Training at Harvard University — which is the longest school name ever, by the way. I was an acting student, he was a directing student. He directed me in Pericles and The Duchess of Malfi. It was the beginning of a terrific friendship and collaboration. We have a great shorthand and rapport. I did White Christmas at the Wang Center when he was a VP there, I did readings in CSC's series of readings of great American Classic plays, including Lanford Wilson's Burn This with Jeffrey Donovan, and Lillian Hellman's The Children's Hour. I have sung in a few fundraisers for them, and finally this summer I was able to do one of their summer shows.
Red: Much as playing in the major leagues is an aspiration for most ballplayers, is doing Shakespeare considered the ultimate gig for most actors?
Kerry: I think it depends who you talk to. Many serious actors will say yes, that the text is so delicious and rich and calls upon every skill you have. Others prefer modern realism, or film or TV, or would say that the ultimate gig is the one that pays more money. It's hard to make a living doing just Shakespeare. It is great for the soul if not for the wallet. I am so profoundly happy when I get to do Shakespeare. And what is especially great about his plays is that you can do them for your whole life, starting with Juliet and moving through Rosalind to Elizabeth and up to Mistress Quickly and Mad Margaret. If you have a love for language there is really nothing better. And most of the plays have songs, too, so if you sing you get to do both! And as you mentioned, they have everything — comedy, tragedy, sword-fighting, romance, magic, music. They are awesome. And when done well, they are instantly accessible. Nothing better than landing a 400 year old joke!
Red: Let's assume that once this is a huge success, ownership wants to do it again next year. They come to you and ask if you can incorporate some of the Red Sox players into the production. Who among the current stable of Sox players do you think would cut a particularly impressive Shakespearean figure?
Kerry: Wouldn't Mike Napoli be a great Falstaff? I think Jonny Gomes would have been really fun in that as well! I would have liked to have seen Jason Varitek give the tennis ball speech from Henry V to the Dauphin's messenger, preferably dressed in his Fourth of July pads like Captain America. Very much like the way he shoved his glove in A-Rod's face, because honestly, I just can't ever get enough of that. Just YouTube Kenneth Branagh delivering that speech. Chills!
Big Papi would be a great Bottom in Midsummer, especially in the rehearsal scenes. I would say Othello, but that is pretty obvious, and I don't want to see him kill anything but a pitch.
Also, Clay Buchholz would be a good Hamlet, don't you think? His time on the mound between pitches suggests Hamlet's indecision.
Red: Aye, if there's a tragedy in this year's Red Sox season, it's Clay.
Shakespeare at Fenway will be presented on Friday, September 19 at 7:30 PM at Fenway Park. You can order tickets here.