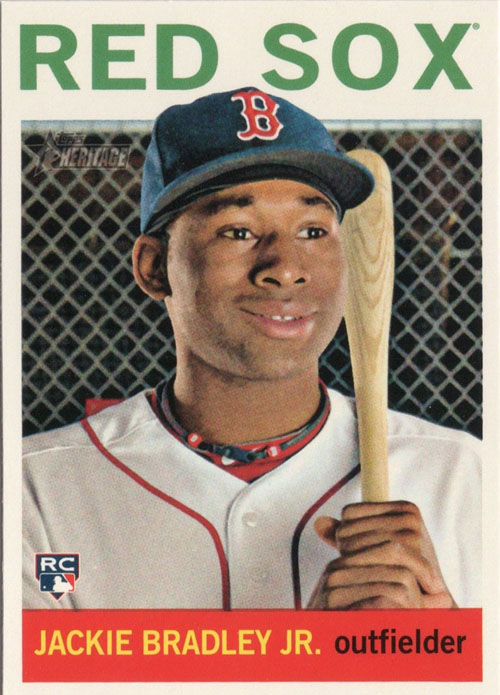 With all the focus on Xander Bogaerts coming into this season, the Magic of Jackie Bradley Jr. went mostly overlooked. "Oh, the gentleman replacing Ellsbury?" we said, tugging at our lapels and polishing off another whiskey sour. "Well, good luck to him."
But after these last couple games, I'm starting to think (read: hoping) that JBJ is gonna have a breakout summer. Yes, I'm basing this on a very small sample size, and I've also been drinking light beer from an ostrich-shaped glass since lunch, but he's heating up at the plate and starting to look right at home patrolling Fenway's center field. Hell, he even got around that god-damned Rogers Centre carpet pretty smoothly last weekend.
I also get the feeling he's pretty even-keeled and a good teammate, the kind of fellow who'll let you borrow his One Tree Hill season one DVDs because he loves the show and thinks you'll like it, too. And when you return the set with one disc missing, he'll just shrug and laugh and pick up another on ebay.
Last night, JBJ went 2-for-4 with two doubles and two RBI, and so far on the season he's driven in just two fewer runs than Ortiz and three fewer than Mike Napoli; raise your hand if you saw that coming in the first month of play. As the Red Sox have been getting on something of a roll, winning four of their last six games, JBJ has been one of the catalysts, finding a groove at the plate and making that bottom half of the order look a little less dispiriting.
He may not give us Ellsbury numbers — at least not this year. But the man seems to be making gradual improvements with each game, contributing with his glove and his bat. And, much like Xander, he seems genuinely happy — and somewhat humbled — to be here.
And that's pretty much all we can ask for. Unless he wants to pick up my bar tab, too.