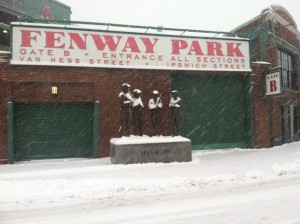 I know we just got through the holidays.
I know the Patriots are plaing in the AFC Championship game this weekend.
I know it's only January.
But why isn't anybody talking about baseball??? Is everybody still hung over from the World Series? Seriously, when was the last time you heard anyone utter the words "Red Sox"?
Okay, I've been just as guilty as everyone else. So let's get this rolling, shall we? The Red Sox are defending World Series champions, can I get an amen? I mean, the Sox just avoided arbitration with Boris Badenov Burke Badenhop, let the celebration begin!
Clayton Kershaw just got the richest contract in MLB history for a pitcher – what does that mean for Jon Lester?
The days are getting longer and pitchers and catchers head south next month. Can you feel it?