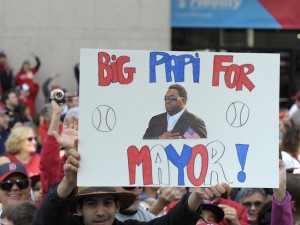 There has been no shortage of cool shit going on since the Red Sox won the World Series. The parade, shirtless, Napoli, Ortiz on Letterman, Victorino and Gomes on Conan…the Sox are everywhere. But this, this is just the greatest:
Marty Walsh triumphed over John R. Connolly in the battle of candidates actually on the ballot, so the takeaway is that Big Papi finished third in the Boston mayor's race. Records indicate that a total of 560 write-in votes were cast, and Ortiz had the highest total.
Just think about it. The guy already has the city by the balls, he would be the coolest mayor ever, and he speaks better English than the guy he'd be replacing.
Seriously, what next?