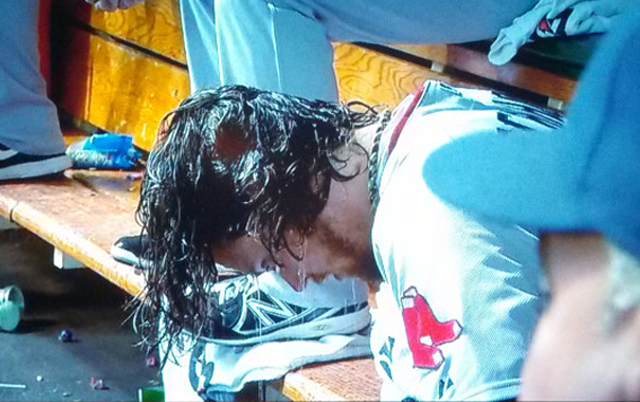 If I've learned anything in my life as a Red Sox fan, it's that anything can happen. So while I am impressed with the Red Sox' performance thus far in the ALDS, and am happy to find our team in the enviable position of only having to win one more game out of the next three, history dictates that I cannot get off the uneasy horse until that final out is recorded.
That said, it's pretty clear that momentum in this series has shifted. Coming in, I thought the Rays might just keep rolling against a Sox team that had enjoyed a week off. But instead, Tampa Bay slammed into a brick walls of beards, flailing with runners in scoring position, stumbling like smacked asses in the outfield, and getting less-than-stellar performances from the highly-touted starters who were supposed to represent a critical advantage.
Can we close it out tonight? Hell, yes. Is it a slam dunk? F*ck, no.
Granted, the Rays seem to be imploding and unraveling before our eyes. But they're still a formidable foe. And while it's easy to envision Clay going a strong seven tonight and keeping the Rays in check, I can just as easily visualize a couple games slipping away from us at the Trop, setting up a loser-goes-home game five at Fenway. Maddon was quick to note that his team got "out Fenway'ed" last week. Sure, it was sour grapes (and very odd, considering visiting teams to the Trop have to digest a 275-page dossier titled "Catwalk 101"), but the bizarre trappings of Tampa Bay's dome could easily flip the course of a game in the home team's favor.
So what are the keys to success?
First, Clay has to bring his A game. He has a good history vs. Tampa Bay, and were it not for his injury, he might have had a season for the record books. He pitched five innings of three-hit, no-run ball here early last month. If we get anything close to that tonight, it's all good.
Second, the Sox have to bring the home field bravado. At Fenway, the Sox have an almost impenetrable swagger? Remember evil Peter Parker strutting down the street in Spider-Man 3? That's what I'm talking about. If they bring even 75% of the badassery that defined them during the first two games of the ALDS, and stake Buchholz to an early lead, this one could be over early.
Last, they have to play like they're the ones facing elimination. The Rays spent all last week cheating death (which, I have to imagine is how Mike Napoli's proctologist feels most of the time). A cornered animal can be pretty wily, so the Sox will have to be wilier. Which I'm hoping is actually a word.
The odds say the Red Sox. My heart says the Red Sox. My eyes — which have witnessed the carnage brought down on the Rays over the weekend — say the Red Sox.
But until we have that final out in hand, anything can happen.
At least that's what 2004 taught me.