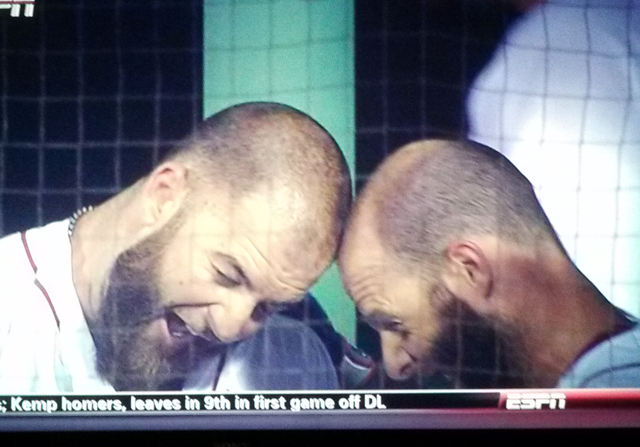 I have to admit, even though I'm glad the Red Sox will have no part of it, the one game, win-or-go-home Wild Card structure has added an extra element of awesome to the 2013 season. And MLB even got a bonus in the tie between the Rays and Rangers which will enhance the drama with an additional one game elimination round. That's like picking up Jessica Biel for a date and finding out that her twin sister who's into cheap beer and exhibitionism's in town and wants to tag along.
What I like about this set-up is that it puts a little extra burden on teams that we may end up facing in the ALDS. If either Texas and Tampa Bay wants to go 16 innings tonight, blow through every pitcher on their roster, then hop a plane and head to Cleveland where they may have to do the same thing all over again, I'm fine with it. Anything to give us the slightest edge.
Of course, the bigger question is who would we prefer to play in the ALDS? On the one hand, everything goes out the window in October. That's the time when Mariano Rivera inexplicably walks Kevin Millar with a championship within reach, and JD Drew earns four years of paychecks with one swing of the bat.
But using the past as any indicator, I'd say we want no part of Texas. They're the only one of the three teams competing for the Wild Card that we have a losing record against in 2013; we went 2-4 against the Rangers, 6-1 against Cleveland and 12-7 against the Rays. Using this guideline, Cleveland is not only the "sentimental" favorite, since Francona vs. Farrell would make for a good storyline, they're also the team we have the better chance against, and I wouldn't bet on the best betting apps against them.
Interestingly, Cleveland has a better record in 2013 against Texas (5-1) than Tampa Bay (2-4). So that math tells me that a Texas victory tonight would put us in a better position to have a Sox-Indians ALDS.
But that would also give us the possibility of a Sox-Texas series, which I'm man enough to say I'd rather not see. Adrian Beltre was creepy enough when he was on our team; I sure as hell don't want that guy deciding my playoffs fate.
I hate to do, people, but I gotta root for Tampa Bay tonight. I'll punch myself in the nuts, thanks.