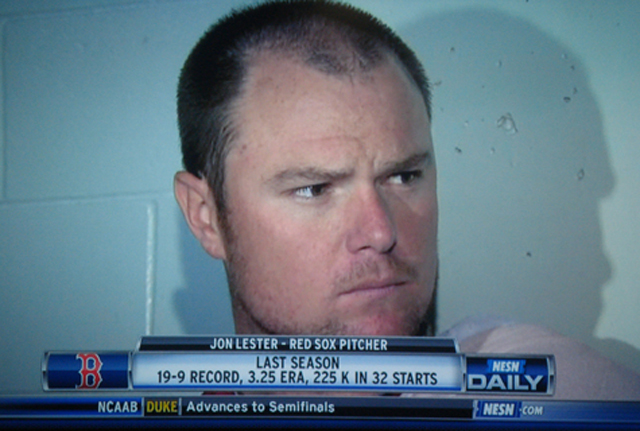 Two things that have become painfully apparent over the past 48 hours: the Rays are not going to stop being a thorn in our ass for the balance of the season, and not even Clay Buchholz knows when Clay Buchholz is coming back. In the blink of an eye, Clay went from getting good news from his doctor to hoping to make "4 or 5 more starts" before October. Not a good sign.
Needless to say, this has the Sox scrambling for pitching as the trade deadline approaches. But one of the best upgrades could come from within if Jon Lester returns to badass form.
Last night, he got a little bit closer.
Over 6 1/3 innings, Lester allowed seven hits and two runs. More significantly, he didn't give up a walk and struck out 8. Against the team that will likely be our chief division rival down the stretch, I'll take it. The win also helped us secure the season series against the Rays, something we haven't taken in at least four or five years.
From a viewing perspective, it was just fun to get that "Jon Lester vibe" from a Jon Lester start again, reminding me of a time when every Lester start was must-see TV.
One thing's for sure: we're gonna be riding Lester and Lackey hard as we barrel into September. And, no, I won't apologize for the visual. Our hopes for October glory fall largely on their shoulders, so if they need to start taking protein shakes intravenously and download the first "Rocky" movie directly into their craniums, so be it.
This is the second half, baby. Big pants are on 24/7.