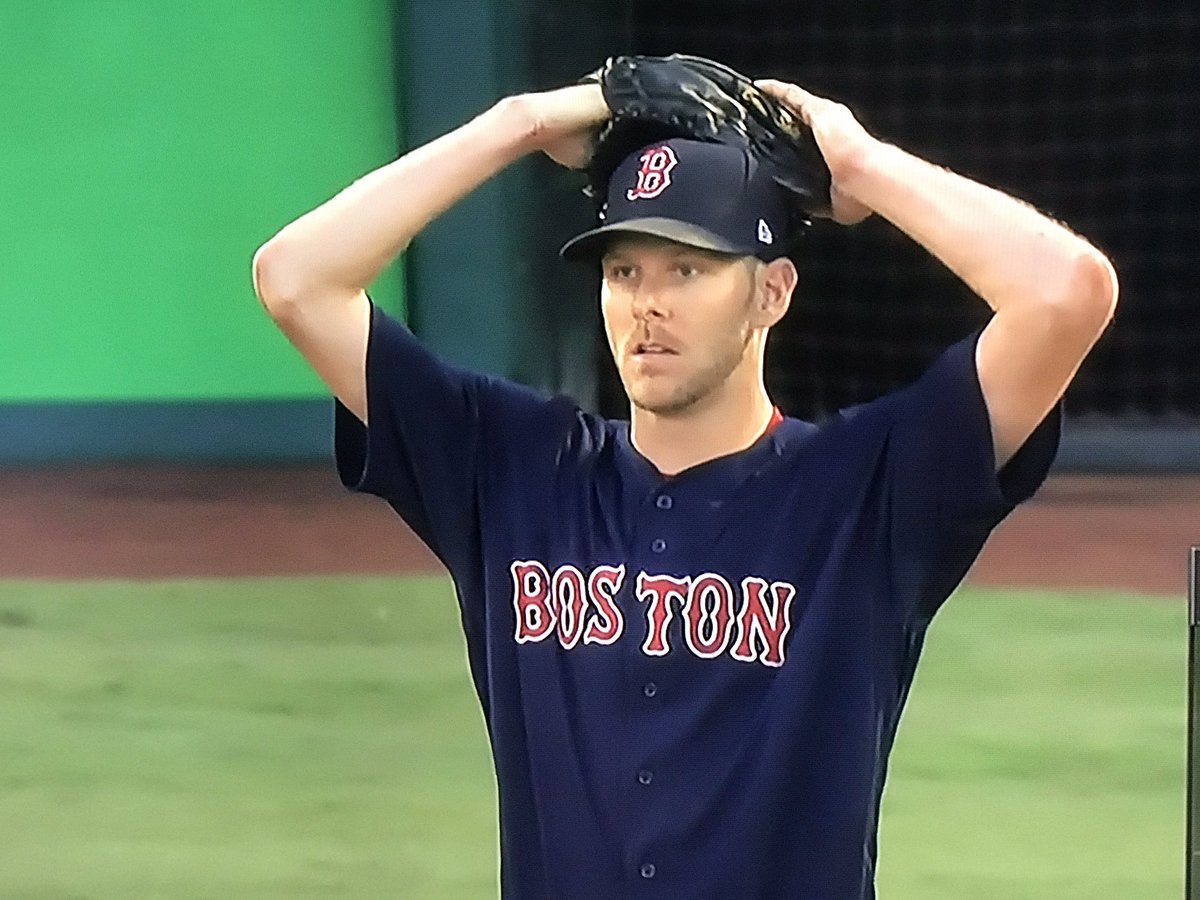 At this point, we've all, sadly, come to expect very little from Chris Sale. The man was freakin Godzilla in 2018, and the images of him yelling at his teammates and then striking out Manny Machado to end the World Series have been burned into my brain forever (along with that time in tenth grade when Mrs. Harris from the local convenience store showed me and my pals her tattoos).
Since then, however, he's been more fragile than Mr. Glass. Breaking bones left and right, and capping off last year's lost season by falling off a bicycle and requiring surgery.
Unfortunately, the most notorious aspect of Sale's Red Sox days has been his penchant for punching inanimate objects when things don't go his way. Last year he famously tore a TV off the wall after a bad minor league rehab stint. And last night, he got right back in the saddle of "doing shit a guy who makes a living with his hands shouldn't do" by punching the crap out of a dugout cooler after the Orioles lit him up.
Yes, we all know that Sale is a fierce competitor, but he's also a Man of Constant Injury. We almost expect each new season to bring a new Chris Sale injury — some mishap that sidelines him for months at a time, like when he got smoked by a line drive that broke his pinkie finger last July. Which added to the time he missed after Tommy John surgery in 2020 and the rib stress fracture that kept him off the field for the start of last season.
He's an intense guy, but he's not a particularly durable guy, which really isn't all that surprising when you consider that he weighs about as much as one of Pedro Martinez's legs.
In fact, the more I watch Sale move in and out of the IRL, the more it becomes apparent that the Red Sox pitcher he seems to remind me of the most isn't Pedro, but Daisuke Matsuzaka. Dice-K's another pitcher to whom we paid an outlandish amount of money and got basically one World Series title in return.
Of course, the die hard fan in me says I can never count Sale out; with each start there's the chance he could be born again hard and push us into the post-season. Just like there's a chance that me and Ana de Armas will be spot-welded into a Wally costume and dropped on a tropical island.
But I don't think either one's gonna happen.