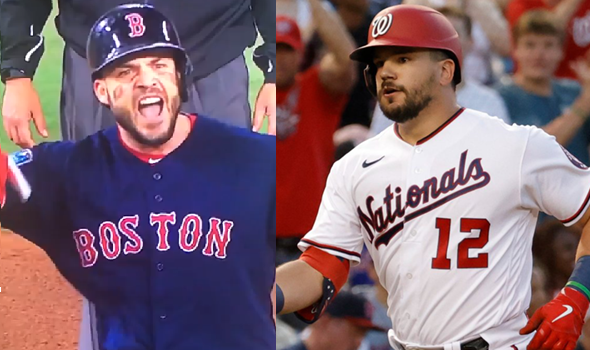 Fans of trade deadline day excitement will be happy to see that the Boston Red Sox did not sit idly by and watch other teams catch all the headlines. Sure, the Dodgers got Scherzer and the Yankees got Rizzo and a bunch of other guys we coveted went somewhere other than here, but we did land one good piece. Kyle Schwarber, AKA The Schwarb, AKA President Kyle, AKA Ruth Gomez has been acquired for the low price of *checks notes* single A pitcher Aldo Ramirez.
I'll be honest: I haven't followed Schwarber's exploits closely since he was part of the Cubs team that won the World Series. Other than the fact that he's currently on the Injured Reserve list. And that before he got injured he was on a mad home run tear, belting 16 taters between June 12 and July 2. But I get a strong Steve Pearce vibe from the guy. Not just because both men look like they could out-drink anyone at the local bowling alley, but because they're both the kind of who-knows-what-we're-getting signing that could pay dividends in the postseason. Just like no one expected Steve Pearce to come up huge in the World Series, Schwarb's an instant dark horse candidate to go ham on opposing pitchers in October, punch a crocodile in the face and two-fist Coors Lights on a duckboat.
Or… he could re-injure himself, be a flop at first base — a position he's not intimately familiar with, although the Moneyball movie says it's easy — and give us nothing. But it's a good dice roll.
Other than that, the Sox really didn't cause much of a stir today, unless you count trading Michael Chavis to the Pirates for lefty reliever Austin Davis or getting reliever Hansel Robles from the Twins. But maybe they didn't have to. This team, as presently constructed, has the second best record in the AL and has already out-performed our expectations. Every time we count them out, they somehow prove us wrong. So maybe the lack of action isn't indicative of a team that doesn't care, but rather a team that oozes self-confidence and is about to get one of baseball's best pitchers back.
I hope.