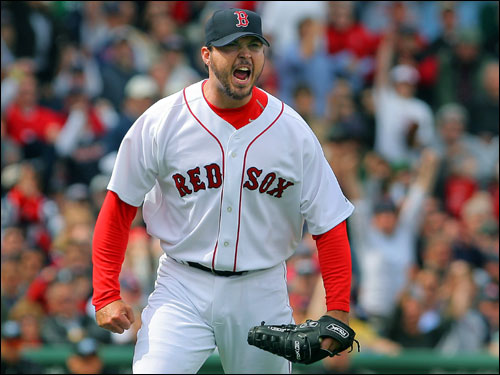 The other day I posted a photo of Eric Hinske on Twitter. And it got me thinking of the 2007 Red Sox. And the fact that this team almost seems to get overlooked, sandwiched between the record-setting 2004 Red Sox and the 2013 team that put the city of Boston on its collective backs and carried us into October.
It's certainly not a lack of respect. That 2007 Red Sox team was good. On paper, it was probably second behind 2018's team in terms of raw power and pitching. They had Ortiz and Manny. JD Drew and Mike Lowell. Tek and Youk. A coming-into-his-own Pedroia and a slew of solid position players and journeymen, from Coco Crisp and Julio Lugo to Bobby Kielty and some kid named Alex Cora. It also had the first post-Pedro pitching staff that could truly be called "menacing," including Jon Lester, Curt Schilling, Tim Wakefield, Daisuke Matsuzaka and the great Josh Beckett.
Beckett was a true terror in 2007. He went 20-7, striking out 194, getting the win in the All-Star Game and generally tying hitters into pants-shitting knots.
As good as he was that season, in the postseason, he was something other than human. A tough SOB suddenly even tougher. He became Commander Kick Ass of the Fuck Yeah Brigade and his breath stirred the trees and everything he found to his disliking crumbled instantly to dust. He went 4-0 when it mattered most and pitched what was arguably one of the greatest games of his career in game five of the 2007 ALCS (of which he was named MVP).
It's important to remember that coming into game five in Cleveland, the Sox were down in the series 1-3. It was just three years earlier in October that they launched a comeback for the ages. Did they have another one in them?
Short answer: fuck yes. And Beckett was the catalyst.
You see, the Cleveland Indians thought they'd found a way to stop Beckett from driving a monster truck all over their World Series aspirations. Naturally, since they couldn't mess him up with their bats, they went the "old girlfriend" route, digging up Beckett's former fling Danielle Peck to sing the National Anthem. It was shrewd move — one that might have bought them a little confidence or $200 no deposit bonus 200 free spins at the local casino.
But as for getting in Beckett's head and throwing him off his game? Nah. In fact, the extra shot of testosterone may have been just what The Commander needed to finish off the Indians.
By the time Cleveland's PR team realized they'd brought a knife to a nuclear war, Beckett had shut them down. He went eight strong, giving up just five hits and one run while striking out 11 and teabagging the GM's trophy wife for good measure. The Sox were on the brink of elimination before the first pitch. After Beckett handed them their own asses, the Indians' spiral had begun; over the last three games, we outscored them a shocking 30-5.
That wasn't just a defeat, it was an all-out pantsing on national television, featuring everything short of David Ortiz actually hitting Fausto Carmona in the bangers with a coconut.
Okay, so Beckett may not have left us on the greatest of terms. But few can deny that 2007 cemented his legend in Red Sox lore. And that he was the key to an (at the time) unimaginable repeat as World Series Champs.