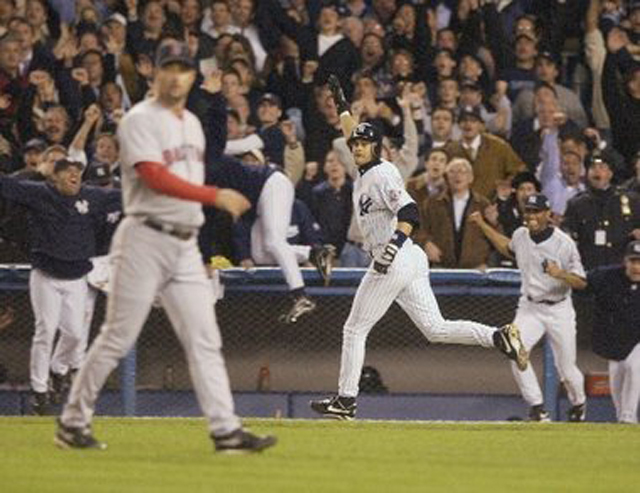 As I've documented far too many times in these lackluster pages, Game 7 of the 2003 ALCS took years off my life, positioning me squarely on the brink of full mental collapse, and leaving me incapable of processing anything but bran and schnapps for sixteen weeks.
I was on a business trip, to New Jersey of all places. I sat in a hotel bar with my boss, fumbling with a burger and nervously watching the Sox build a 4-0 lead. After Millar went yard in the fourth, I pumped my fist, drawing the ire of the Yanks fans who had packed the place. I quickly finished my beer and went up to my room, where I paced like a lunatic through the late innings.
When Ortizzle greeted David Wells with a long home run in the top of the eighth, giving the Sox a 5-2 lead, I called my Dad in Boston and told him it was over. No way we could lose this one. The motherfucking Boston Red Sox were going to the World Series for the first time since 1986. Even better, we were stepping over Roger Clemens and the Yankees to get there. It was the moment I'd dreamed of for most of my young (at the time) life… and it was finally within arm's reach. Even better: I was sober to witness it!
By the ninth inning's close, after the Yankees tied it up in the eighth, I was watching from the bed, feeling feverish, legs aching, face almost entirely under the covers, too nervous to move. As soon as Boone's shot left the bat, I shut off the TV. I didn't want to see the Yankees storm the field or Tim Wakefield shuffle down the dugout steps or Derek Jeter and Mike Mussina dry humping on the first base line. All I knew is that once again, a victory that seemed so close had slipped through our fingers.
I let the room go black and stayed awake for hours cursing Grady Little, Mariano Rivera, Mookie Wilson, a few ex-girlfriends, those assholes on my paper route and pretty much anyone who'd ever wronged me. "We were so close," I kept telling myself. "How in the hell are we ever going to get that close again?"
The next day, during the longest train ride of my life back to Boston, with a pain far worse than any hangover squeezing both ends of my brain, the idea for this blog was born. It seemed a healthier outlet for my angst than, say, punching a truck.
Seventeen years later (WHAT) it's almost insane to think about how far the team has come. An improbable 2004 revenge levied on the Yankees. Another World Series sweep in 2007. One win away from a third World Series visit in 2008. The soul-intensifying 2013 title that literally raised up our entire city. Another title in 2018 thrown in for good measure. It's been an embarrassment of riches from a franchise I was certain would send me to an early grave.
If you told me back then, on that cold, horrible night I spent in that New Jersey hotel, that all of this was coming, I never would have believed it. Sometimes I still can't.
It's been an incredible run. And all I can do is promise to never, ever take it for granted.