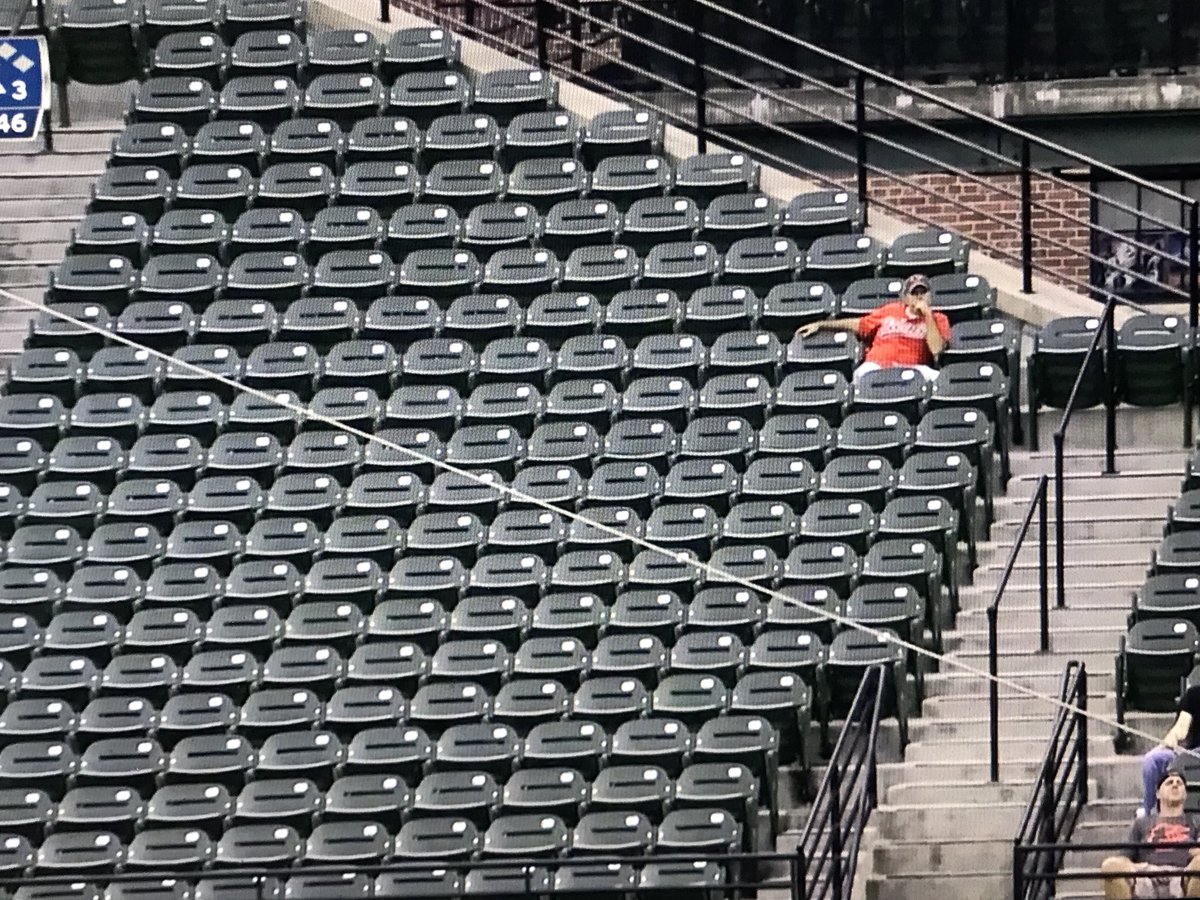 Lack of baseball has certainly taken its toll on me. Since what-should-have-been-Opening-Day has come and gone, I find myself carving pineapples into the shape of Matt Barnes, adding to my book of "Potential Brad Penny-inspired Tattoos" and re-watching videos I took of me following David Ross from the Fenway parking lot to whatever point the authorities intervened and subdued me.
Apparently, it's also getting to the folks in charge at Major League Baseball (MLB). Because the same people who had to cancel an All-Star Game because they ran out of pitchers and who also willed the Tampa Bay Rays into existence are now considering a bizarre proposal to bring baseball back in 2020 that kiboshes the American and National Leagues in favor of a spring training realignment:
GRAPEFRUIT LEAGUE
NORTH: New York Yankees, Philadelphia Phillies, Toronto Blue Jays, Detroit Tigers, Pittsburgh Pirates
SOUTH: Boston Red Sox, Minnesota Twins, Atlanta Braves, Tampa Bay Rays, Baltimore Orioles
EAST: Washington Nationals, Houston Astros, New York Mets, St. Louis Cardinals, Miami Marlins
CACTUS LEAGUE
NORTHEAST: Chicago Cubs, San Francisco Giants, Arizona Diamondbacks, Colorado Rockies, Oakland Athletics
WEST: Los Angeles Dodgers, Chicago White Sox, Cincinnati Reds, Cleveland Indians, Los Angeles Angels
NORTHWEST: Milwaukee Brewers, San Diego Padres, Seattle Mariners, Texas Rangers, Kansas City Royals
On one hand, if we want baseball back before snow starts falling again, we have to accept it by any means necessary. On the other hand, fuck that noise. If the MLB wants to shoehorn a season into the last few months of summer, I say they go balls out and really shake things up. With that, I humbly offer the following counter-proposal re-alignment:
MOUNT OLYMPUS/CUL DE SAC OF CHAMPIONS
EAST: Boston Red Sox
ALSO EAST: New York Yankees
[Basic point of this league is just to allow MLB to get its annual minimum of 462 Red Sox/Yankees match-ups.]
FUCKIN BIRDS!
EAST: Baltimore Orioles
MIDDLE: St. Louis Cardinals
CANADA: Toronto Blue Jays
ALSO: The Downtown Sparrows [proposed new team and/or doo-wop group to sing National Anthem before games.]
LEAGUE OF SEAFARIN' MEN [all games held on large platforms adrift at sea; fans responsible for own snacks, transportation]
PACIFIC: Seattle Mariners
LAKES AND SHIT: Pittsburgh Pirates
ATLANTIC: The Fabulous Swimmees! [proposed new team; might not be quite "butch" enough but screw it, we're all here to make a dime]
ASTRONAUTS VS. COWBOYS
LAND: Texas Rangers
SPACE: Houston Astros
FISH, ANIMALS, LAND MASSES
WATER: Tampa Bay Rays, Miami Marlins
ZOO: Chicago Cubs, Arizona Diamondbacks, Detroit Tigers
TOPOGRAPHY: Colorado Rockies
LEAGUE OF SPECIFIC HUMANS
THEY LOOK ALIKE: Minnesota Twins
THEY ARE HUGE TALL: San Francisco Giants
THEY MAKE BEER: Milwaukee Brewers
PRIESTS/MEXICAN DADS: San Diego Padres
POSSIBLY RACIST LEAGUE
EAST: Cleveland Indians
MIDDLE: Atlanta Braves
PUB: The Pale, Loud Irishmen [proposed team]
LETTERS FIGHT COLORS
COLORS: Cincinnati Reds
LETTERS: Oakland A's
LEAGUE OF EVERYBODY ELSE
WHAT ARE THEY: Philadelphia Phillies, Washington Nationals, Los Angeles Angels, Kansas City Royals, Los Angeles Dodgers, Chicago White Sox
LEAGUE OF "ALSO, THE METS"
THE METS: The Mets
Proposed Playoff Structure:
Winners in each league have to fight. Those left standing will play a few rounds of "Guy's Grocery Game" to whittle it down to two teams. Winner is whatever team is best at math.