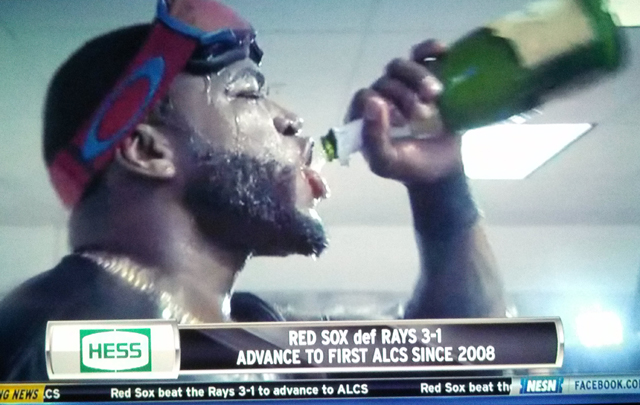 Six years ago tonight, David Ortiz did the unthinkable. Already a deity in Boston for pulling us up by our bootstraps during the 2004 post-season, he reaffirmed his status as the baddest motherflipper on the planet by coming up huge when we needed it most in game two of the 2013 ALCS.
As you may recall, game one of the ALCS did not go well for us. Tiger pitching shut us out and held us hitless for 8 and 1/3 innings. Game two wasn't looking too pretty either for the first seven innings. The Tigers' starter, Max Scherzer, was dealing. The Sox bats were flailing. Frustration was mounting. My liver was weeping. The hits kept on not coming. And we were suddenly faced with the possibility of heading to Detroit for three games, down 0-2.
Until the eighth. That's when Jim Leyland turned to the Tigers' weakness: their bullpen. The Sox quickly loaded the bases in the bottom of the eighth quicker than you could lay down 50 large at a french online casino. And then, with two outs, David Ortiz stepped to the plate.
And then this happened:
Suddenly, we were all tied up at 5. And it was 2004 all over again. And we were jumping up on the big guy's back like he was the goddam giant flying dog from The Neverending Story. It was the tide-turner. The game-changer. It was Christmas and your birthday and your first kiss all rolled into one. It was another one of those "how in the HELL did he do that" moments that Big Papi seemed to have a limitless supply of in his back pocket. (Also: Dave O'Brien's call of it on EEI is perhaps the greatest thing ever.)
Without that legendary grand slam, who knows? Maybe the Sox still pull it out. Maybe we drop this baseball nonsense and go all-in on greyhound racing. And an argument could be made for John Lackey's game three magic being even more critical to that 2013 title run.
But game two, and that grand slam, and how it helped elevate a city that needed something bright and positive to cling to, cemented David Ortiz's status on the Mount Rushmore of Boston sports.