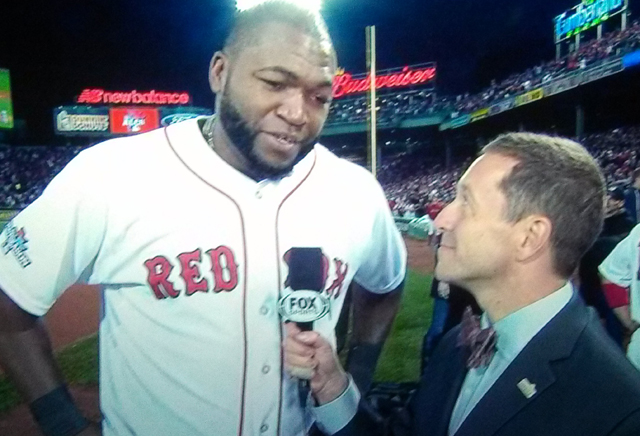 For a while, game two of the ALCS was looking a lot like game one. The Tigers' starter — this time, Max Scherzer — was dealing. The Sox bats were flailing. Frustration was mounting. And the hits just weren't coming. In fact, the Sox went hitless until the bottom of the sixth.
Ths situation was exacerbated by an uncharacteristic bedshitting by Clay Buchholz, who gave up five runs on eight hits. Even after the Sox scored a run to make it 5-1, I was still in full "negative fan" mode, openly tweeting about how shipping off to Detroit down 0-2 might not be that bad.
Then Leyland turned to the Tigers' weakness: their bullpen. And the Sox quickly loaded the bases in the bottom of the eighth. And then, with two outs, David Ortiz stepped to the plate.
And then this happened: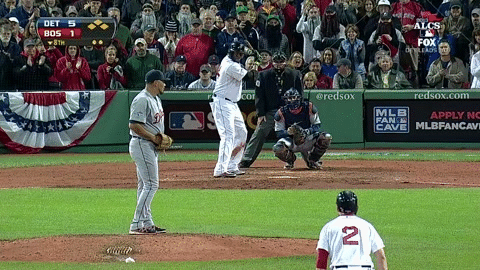 Suddenly, we were all tied up at 5. And it was 2004 all over again. And we were jumping up on the big guy's back like he was the goddam giant flying dog from The Neverending Story.
In the top of the ninth, Koji shut down the Tigers in order (our bullpen > their bullpen), then Gomes led off for us, grinding out an infield hit and advancing to second on a bad throw, then to third on a wild pitch.
This set things up for Salty, who knocked him in with a single to left, and then got chased around the basepaths by his teammates.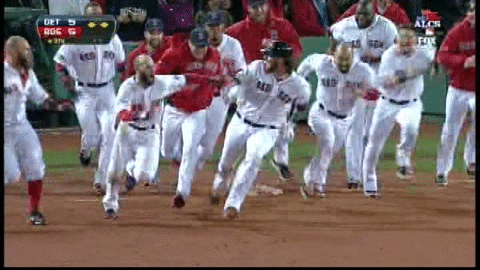 It was the capper on what turned out to be one of the most thrilling and important victories of the year. The difference between heading to Detroit to face Verlander down 0-2 or heading in with momentum on you side.
Now, even if we get flattened by Verlander, we're only down 1-2, and can still keep pounding away. Hell, we may even be able to get to Verlander. Crazier things have officially happened.
All I know is we've got 48 hours to savor this win. And I'm gonna savor the f#$k out of it.